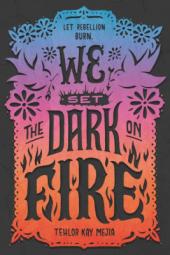 Daniela Vargas is a top student at the Medio School for Girls, where young women are trained to be prestigious wives to young rich men of high social status. Dani, a Primera, is taught how to be a household manager. Carmen, a Segunda, is the wife of desire and beauty. Both girls marry Mateo, a young man who is rumored to be next in line for the presidency. Dani's world is turned up-sidedown when a resistance group learns Dani's deepest secret, and in exchange for keeping it, they asked her to spy on her new husband. With no choice but to comply Dani gets wrapped up in the resistance. All the while Dani and Carmen learn to more than just tolerate each other as a romance blossoms between the two of them.
We Set the Dark on Fire is a dystopian novel that will have sci-fi/fantasy readers eating it up, while parallels to social issues happening today will appeal to readers who prefer the realistic approach. Mejia takes from Latin mythology and folklore to develop the basis for the Primera and Segunda wives; as well as today's issues of immigration to build her story. Both elements add a layer to the vivid world building and back-story. Although a plot-driven narrative, the transformation of multifaceted Latinx characters and relationships has not taken a back seat. Dani and Carmen's relationship is natural, slow building, and great queer representation. The secrets of the story will keep the reader guessing and second guessing.
We love helping people find books, movies, and more.
Tell us about your preferences, and our librarians will create a list of titles selected specifically for you.