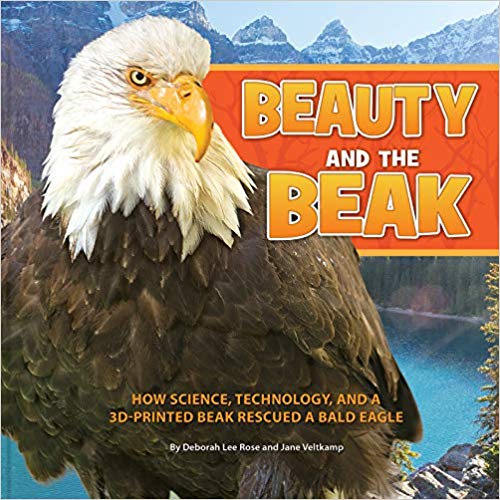 Beauty the Bald Eagle begins her life by using her strong beak to break out of her egg shell. As she grows, she learns to fly and hunt for food. By the time she is 4 years old, her iconic white head and tail feathers mark her clearly as a symbol of our nation. Then one day she is shot, leaving her beak shattered and her future uncertain. After being rescued by a police officer in Alaska, Beauty is transferred to a raptor rehabilitation center in Idaho. Weak and starving, Beauty requires careful hand feeding and is unable to preen her own feathers. This inspiring true story follows Beauty's journey from a chick to adulthood, through her rescue, to rehabilitation from pioneering surgery that gave her a 3-D printed prosthetic beak.
Stunning full-color photographs and large, white text on black and orange backgrounds make the uplifting narrative accessible to early elementary students, while the sixteen pages of additional information provide a resource for older students to write reports and ignite passion for further research. A terrific family read-aloud, Beauty and the Beak is more than a true animal tale – it's a story of science, and what can happen when dedicated people work together to solve a problem.
We love helping people find books, movies, and more.
Tell us about your preferences, and our librarians will create a list of titles selected specifically for you.