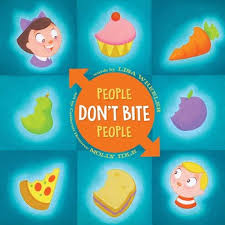 This book on manners tackles the issue of biting with a playful and positive approach that encourages young readers who are "tooth-inclined" to use their words and own their actions, as many things are great for biting, but people are not one of them. Well, unless they are made of gingerbread, then "go on and take a bite!"
Author Lisa Wheeler and illustrator Molly Idle have created a humorous and indispensable book for parents and caregivers helping young readers navigate new social skills. Wheeler's clever text shines alongside Idle's cleanly executed illustrations and rich palette.
A lyrical rhyme scheme and silly comparisons heighten the humor; for example, "You're not a zombie, dude!…Biting is for food!" This lighthearted reminder is one of many that encourage readers to think about what they use their chompers for. The illustrations span two pages and the action is highlighted by an ombré effect that draws the eye. Idle's Whimsical touches, like the horse ripping the farmers overalls, diffuse the tension surrounding this commonplace behavior. The black font is a traditional serif with crisp lines that allow it to stand out against the different background colors. Capitalization is added to emphasize different words and lines; this too adds humor to the story, making this a great story to share one on one at home.
We love helping people find books, movies, and more.
Tell us about your preferences, and our librarians will create a list of titles selected specifically for you.