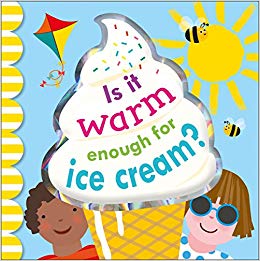 The question posed in this sturdy board book is a jumping-off point for a discussion of seasonal changes that a child experiences throughout the year. Each season is presented in two full, colorful spreads. The first spread discusses changes not only in weather and temperature, but also in plant and animal life. The next spread poses the title's ice cream question and then gives examples of activities that are common and appropriate for the season.
The bright and colorful pages are unique in that they combine graphics with photographs, giving the book a cheerful and fun style. An adult sharing this book with a child will find many things to talk about and even some fun suggestions of outdoor activities to do throughout the year. The child will be hearing rich vocabulary while getting an introduction to the scientific changes of the seasons through words and pictures.
While the title may seem like a trick question, since many people feel it is always time for ice cream, this delightful book, published by DK, discusses scientific changes that take place throughout the year in a manner that is relevant to the life of a very young child.
We love helping people find books, movies, and more.
Tell us about your preferences, and our librarians will create a list of titles selected specifically for you.