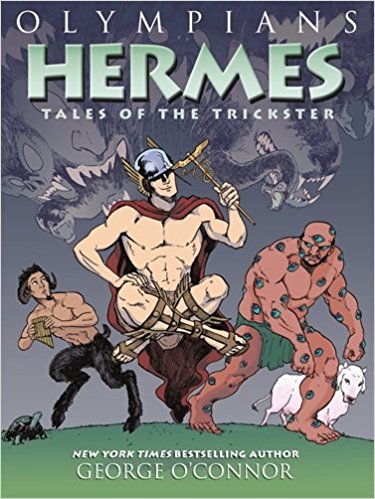 The Greek god of thieves, language, and travel comes to life in this vibrant addition to George O'Connor's Olympians graphic novel series. In this collection of tales about the origins of Olympus's trickster god, narrator Aesop sits across from the many-eyed, mythical Argus and spins three mirthful yarns about Hermes and Hermes' son, Pan.
Hermes: Tales of the Trickster is perfect for fans of Rick Riordan's Percy Jackson and the Olympians series, or any other reader with a taste for the mythic. Bright illustrations and simple paneling provide an engaging story perfect for both avid and reluctant readers alike. O'Connor's affection for Hermes illuminates this delightful frame narrative and by the story's end, readers will be just as charmed by the trickster god as its author. Various other Olympians appear throughout the text, so although each book in the Olympians series functions independently (and there's no need to read them in chronological order), reading every installation means reuniting with favorite characters. In Tales of the Trickster, the irritated-sibling dynamic between Apollo and Hermes shines especially bright.
Whether interested in Hermes specifically or Greek mythology as a whole, be sure to pick up this delightful title! Then, check out the others in the Olympians graphic novel series.
We love helping people find books, movies, and more.
Tell us about your preferences, and our librarians will create a list of titles selected specifically for you.