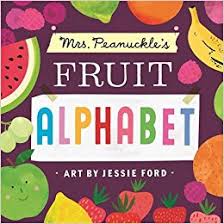 Beginning with "A is for avocado" (not apple as the reader might expect), this book contains fruit that we are all familiar with, such as bananas and strawberries, and also some that are less well-known, such as quince and xigua. Even the more familiar fruits are elaborated upon. "O is for orange" is expanded to list types of oranges – Cara cara, blood, Valencia, and navel. In the end, the author cleverly brings the book back around to the beginning with "Z is for zinc" – a healthy mineral that you can find in avocados.
I wouldn't recommend Mrs. Peanuckle's Fruit Alphabet as baby's very first alphabet book. The letters are not clearly distinguished enough from the rest of the words and graphics to be a first introduction to the alphabet. I definitely recommend it as an alphabet book for the toddler or preschooler who already knows their letters and is learning more about letter sounds. The combination of Mrs. Peanuckle's fun fruit facts and Jessie Ford's colorful graphics makes for a delightful and unique alphabet book for babies and toddlers that adults will enjoy too. This would also be a wonderful little book to devour before devouring a feast of healthy fruit!
We love helping people find books, movies, and more.
Tell us about your preferences, and our librarians will create a list of titles selected specifically for you.