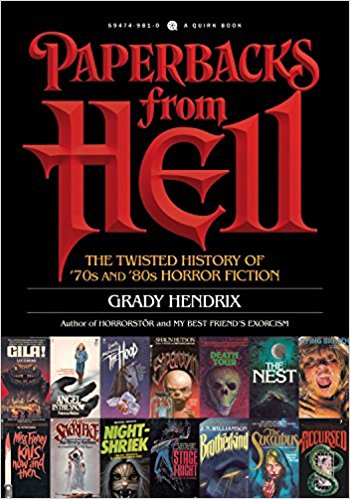 Horror in print has been plagued with the obscene for decades. From Satanic cults to Nazi leprechauns to a killer Santa Claus, no other genre has seen such fun filth like that of the horror paperback in stores and libraries. Not that a lot of these titles lasted long–most have been discarded into the ether, a product of their time and lost to the public eye. Grady Hendrix fishes a few out of obscurity, however, in Paperbacks from Hell: A Twisted History of '70s and '80s Horror Fiction. Featuring high resolution images of some of the most distasteful horror books of that time, Hendrix explores the evolution of the Gothic Romance to the Horror boom of the late 20th century. He provides artist spotlights and studies of themes in the horror genre throughout history in his own unique voice.
Paperbacks from Hell is fun, lighthearted, and, above all, a book that will make any reader interested in Horror history fill their library hold limits faster than you can scream, "Help!" Hendrix knows his audience and his distinct style of horror comedy seeps its way into his non-fiction–just as witty as the tongue in cheek prose in his other works Horrorstor and My Best Friend's Exorcism. To readers who would like a solid, no-nonsense history of the genre, Hendrix might be a little too rambunctious, however. Hendrix's quips do sometimes subtract from his book-by-book synopsis, but readers will not deny the bloody footprints of memory left behind by the books mentioned. Edgy as it is smart, Paperbacks from Hell is a shining light in the histories of literature.
We love helping people find books, movies, and more.
Tell us about your preferences, and our librarians will create a list of titles selected specifically for you.