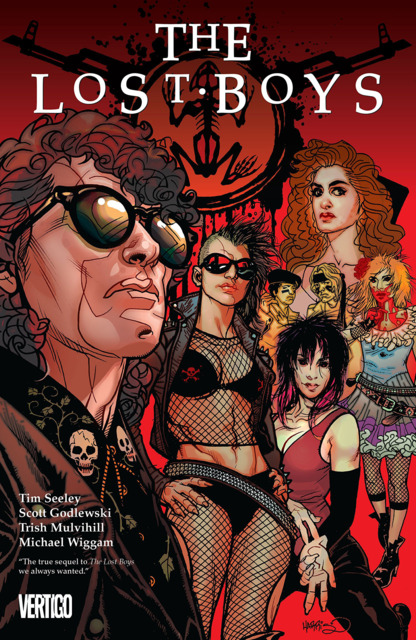 The Lost Boys Vol. 1 is a true sequel to the 1987 cult classic horror-comedy by the same name. Just weeks after Sam, Mike and the Frog brothers defeat Max and David's vampire clan, a familiar threat returns. For centuries, ancient unknown secrets have lain dormant under the boardwalk of Santa Carla waiting to emerge. Mike, Sam, the Frog brothers, and a familiar oil-slicked rockstar have to get to the bottom of it before the "suckheads" return for blood.
The Lost Boys comic is everything a fan of the original movie could ever want it to be. Readers may remember Anne Rice's vampire mythology while uncovering the ancient origins of Santa Carla's bloodsuckers, though Seeley puts an expert spin that just simply works with the horrific and the hilarious. Jam-packed with familiar callbacks, fans of the movie will remember scene-after-scene with warm nostalgia. The comic expands the film's mythology even further by utilizing cult interest in certain scenes and dialog from the movie. Werewolves most likely do run city hall as the Frog brothers have mentioned. And remember the shirtless rockstar on the boardwalk at the beginning of the film? He is much more than he seems!  While Seeley's book does require its readers to harken back to the movie quite a bit, even a new fan of the story will enjoy this comic's dark sense of humor and gruesome action panels.
We love helping people find books, movies, and more.
Tell us about your preferences, and our librarians will create a list of titles selected specifically for you.