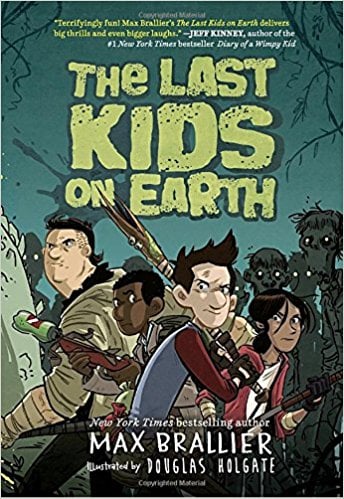 The monster apocalypse has begun in 13-year old Jack Sullivan's town, and he is holed up in his tricked-out treehouse, protected by a moat and catapults. He's resourceful and has a supply of junk food scavenged from local stores. Jack is obsessed with video games and has set up challenges for himself; steal the hats off five zombies, take a photo with someone you knew before they got zombified. However, the most important challenge, in Jack's opinion, is to rescue his love interest, June Del Toro. He is convinced she is a damsel-in-distress and will fall for him when he comes to her aid.
Zombies and monsters abound in this humorous story, written by Max Brallier and illustrated by Douglas Holgate. The evil Blarg, a gigantic monster with a personal vendetta against Jack, is particularly troublesome. Fortunately Jack finds two classmates, his best friend and science geek Quint, and the school bully, Dirk Savage. Along with the monster dog Rover who has befriended Jack, they join forces to seek out June, who may (or may not!) need rescuing.
A little gross and very funny, this cross between a chapter book and a graphic novel is sure to appeal to fans of Diary of a Wimpy Kid.
We love helping people find books, movies, and more.
Tell us about your preferences, and our librarians will create a list of titles selected specifically for you.