2023 ALSC summer reading lists
Looking for some summer reading inspiration? ALSC, the Association for Library Service to Children, publishes annual reading lists highlighting new and notable books for young readers. The lists are tailored to different ages, from babies to middle schoolers.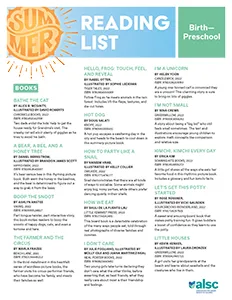 Download ALSC lists
See a title that interests you? Check our online catalog to see if it's available on our shelves or place a hold if it's checked out. Our librarians are also available to help you find these books and more!