Home Activities: Early Childhood
Our librarians have gathered resources and suggestions for keeping boredom at bay—and practicing early literacy skills!
También hemos reunido recursos en Español para usted.
---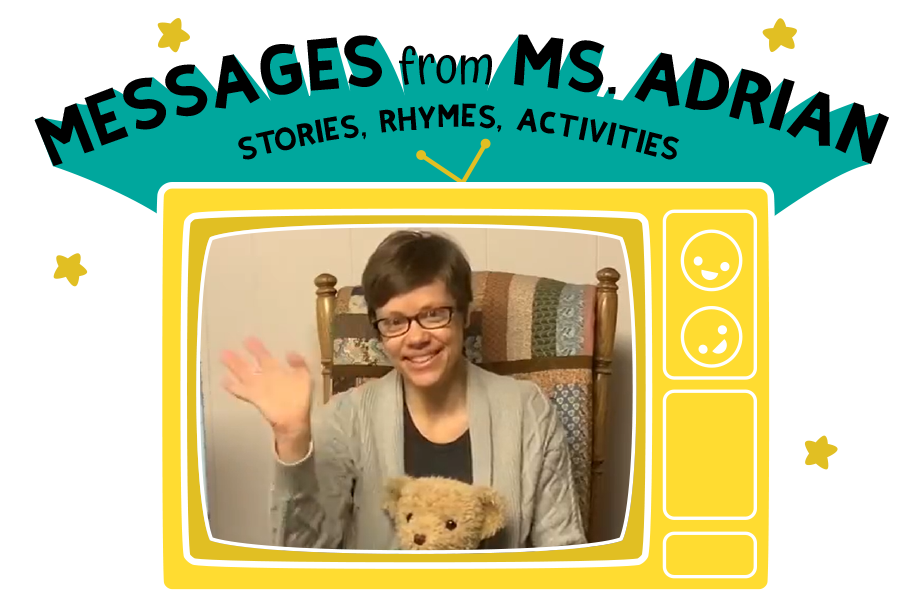 Messages from Ms. Adrian
Our early childhood specialist shares short videos of rhymes, fingerplays, and flannel board stories for little ones at home on the Library's YouTube channel 
Watch the first video here, as Ms. Adrian shares a storytime favorite: "Zoom, zoom, zoom!" Find all the episodes at this playlist. Be sure to look for other early childhood video programs on our YouTube Channel.
---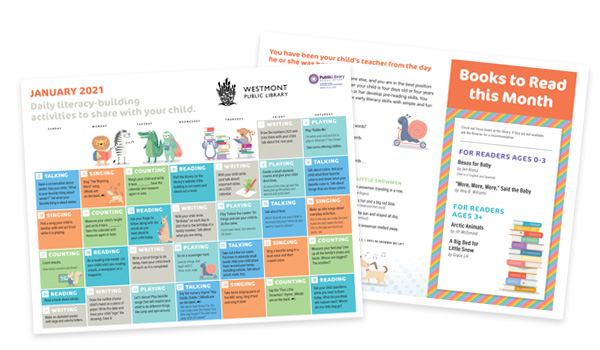 Early Literacy Activity Calendar
Build your child's early literacy skills with fun activities you can do together! This calendar, created by the Public Library Association, includes suggested activities for each day that incorporate Every Child Ready to Read practices: reading, writing, singing, talking, playing, and counting.
Find the activity calendars, added monthly, at the Early Literacy Calendar page, or get them delivered to your inbox when you subscribe to our Youth eNews.
---
Sing and move along to songs
---
Read and listen along to books and stories
---
Get creative
Make a paper bag or paper plate puppet! Use items you have in the house to create a creature or person and make up a story to act out.
Cut out geometric shapes and glue them to paper to create a collage, an animal or an outdoor scene. Add color with crayons or markers to finish your masterpiece. Take a photo and share with family and friends!
Write your child's name in block letters on a piece of paper. Give them cereal (like fruit loops or cheerios) to glue down on the letters to make a picture. Great for fine motor skills!
Use masking tape to spell your child's name (or make a house or other object). Let your child paint all over the paper. When the paint dries, remove the tape and amaze your child! (If your child does not like the feel of paint, add paint to the paper, then lay a sheet of wax paper over the top. Your child can finger paint without getting their fingers messy.)
Use a muffin tin to sort objects – fruit loops, buttons, beads, pasta – be creative! Sort by color, by shape, by number.
Use a cardboard box or box lid to create a parking lot for your child's toy cars. Have your child draw parking spaces on the cardboard and number them. Then you can park the cars, count them, count how many spots have cars, how many do not, etc.
Writing in shaving cream – on a sheet of parchment paper or aluminum foil, spray enough shaving cream to cover most of the surface. Have your child practice writing their name, letters, or small words. Once they have, mix it all up and start all over again.
---
Explore from home
---
Parenting Tips