In honor of Women's History Month, we've selected titles focusing on the lives of women and girls throughout the past and into the present day. We hope these selections serve to educate and encourage a dialogue on topics of women's history, rights, and stories.
---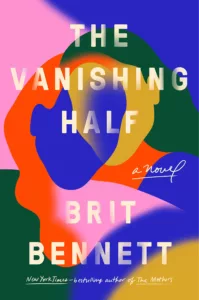 The Vanishing Half by Brit Bennett
The Vignes twin sisters will always be identical. But after growing up together in a small, southern black community and running away at age sixteen, it's not just the shape of their daily lives that is different as adults, it's everything: their families, their communities, their racial identities. Many years later, one sister lives with her black daughter in the same southern town she once tried to escape. The other secretly passes for white, and her white husband knows nothing of her past. Still, even separated by so many miles and just as many lies, the fates of the twins remain intertwined. What will happen to the next generation, when their own daughters' storylines intersect? Weaving together multiple strands and generations of this family, from the Deep South to California, from the 1950s to the 1990s, Brit Bennett produces a story that is at once a riveting, emotional family story and a brilliant exploration of the American history of passing . Looking well beyond issues of race, The Vanishing Half considers the lasting influence of the past as it shapes a person's decisions, desires, and expectations, and explores some of the multiple reasons and realms in which people sometimes feel pulled to live as something other than their origins. As with her New York Times -bestselling debut The Mothers , Brit Bennett offers an engrossing page-turner about family and relationships that is immersive and provocative, compassionate and wise.
Available Formats: Book, eBook, Audiobook, eAudiobook
---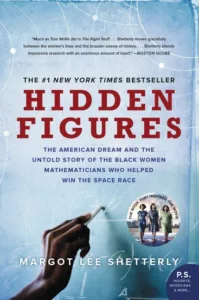 Hidden Figures by Margot Lee Shetterly
The phenomenal true story of the black female mathematicians at NASA at the leading edge of the feminist and civil rights movement, whose calculations helped fuel some of America's greatest achievements in space–a powerful, revelatory contribution that is as essential to our understanding of race, discrimination, and achievement in modern America as Between the World and Me and The Immortal Life of Henrietta Lacks. The basis for the smash Academy Award-nominated film starring Taraji P. Henson, Octavia Spencer, Janelle Monae, Kirsten Dunst, and Kevin Costner.
Before John Glenn orbited the earth, or Neil Armstrong walked on the moon, a group of dedicated female mathematicians known as "human computers" used pencils, slide rules and adding machines to calculate the numbers that would launch rockets, and astronauts, into space.
Among these problem-solvers were a group of exceptionally talented African American women, some of the brightest minds of their generation. Originally relegated to teaching math in the South's segregated public schools, they were called into service during the labor shortages of World War II, when America's aeronautics industry was in dire need of anyone who had the right stuff. Suddenly, these overlooked math whizzes had a shot at jobs worthy of their skills, and they answered Uncle Sam's call, moving to Hampton, Virginia and the fascinating, high-energy world of the Langley Memorial Aeronautical Laboratory.
Even as Virginia's Jim Crow laws required them to be segregated from their white counterparts, the women of Langley's all-black "West Computing" group helped America achieve one of the things it desired most: a decisive victory over the Soviet Union in the Cold War, and complete domination of the heavens.
Starting in World War II and moving through to the Cold War, the Civil Rights Movement and the Space Race, Hidden Figures follows the interwoven accounts of Dorothy Vaughan, Mary Jackson, Katherine Johnson and Christine Darden, four African American women who participated in some of NASA's greatest successes. It chronicles their careers over nearly three decades they faced challenges, forged alliances and used their intellect to change their own lives, and their country's future.
Available Formats: Book, eBook, Audiobook, eAudiobook
---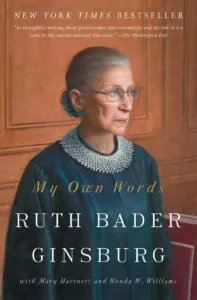 My Own Words by Ruth Bader Ginsburg
The New York Times bestselling book from Supreme Court Justice Ruth Bader Ginsburg–"a comprehensive look inside her brilliantly analytical, entertainingly wry mind, revealing the fascinating life of one of our generation's most influential voices in both law and public opinion" ( Harper's Bazaar ). My Own Words "showcases Ruth Ginsburg's astonishing intellectual range" ( The New Republic ). In this collection Justice Ginsburg discusses gender equality, the workings of the Supreme Court, being Jewish, law and lawyers in opera, and the value of looking beyond US shores when interpreting the US Constitution. Throughout her life Justice Ginsburg has been (and continues to be) a prolific writer and public speaker. This book's sampling is selected by Justice Ginsburg and her authorized biographers Mary Hartnett and Wendy W. Williams, who introduce each chapter and provide biographical context and quotes gleaned from hundreds of interviews they have conducted. Witty, engaging, serious, and playful, My Own Words is a fascinating glimpse into the life of one of America's most influential women and "a tonic to the current national discourse" ( The Washington Post ).
Available Formats: Book, eBook
---
Formidable: American Women and the Fight for Equality: 1920-2020 by Elisabeth Griffith
The Nineteenth Amendment was an incomplete victory. Black and white women fought hard for voting rights and doubled the number of eligible voters, but the amendment did not enfranchise all women, or even protect the rights of those women who could vote. A century later, women are still grappling with how to use the vote and their political power to expand civil rights, confront racial violence, improve maternal health, advance educational and employment opportunities, and secure reproductive rights. Formidable chronicles the efforts of white and Black women to advance sometimes competing causes. Black women wanted the rights enjoyed by whites. They wanted to protect their communities from racial violence and discrimination. Theirs was not only a women's movement. White women wanted to be equal to white men. They sought equal legal rights, political power, safeguards for working women and immigrants, and an end to confining social structures. There were also many white women who opposed any advance for any women. In this riveting narrative, Dr. Elisabeth Griffith integrates the fight by white and Black women to achieve equality. Previously their parallel struggles for social justice have been presented separately–as white or Black topics–or covered narrowly, through only certain individuals, decades, or incidents. Formidable provides a sweeping, century-long perspective, and an expansive cast of change agents. From feminists and civil rights activists to politicians and social justice advocates, from working class women to mothers and homemakers, from radicals and conservatives to those who were offended by feminism, threatened by social change, or convinced of white supremacy, the diversity of the women's movement mirrors America. After that landmark victory in 1920, suffragists had a sense of optimism, declaring, "Now we can begin!" By 2020, a new generation knew how hard the fight for incremental change was; they would have to begin again. Both engaging and outraging, Formidable will propel readers to continue their foremothers' fights to achieve equality for all.
Available Formats: Book, eBook
---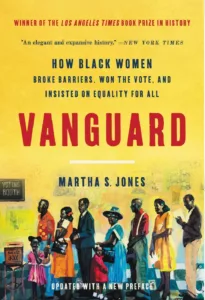 Vanguard: How Black Women Broke Barriers, Won the Vote, and Insisted on Equality for All by Martha S. Jones
The epic history of African American women's pursuit of political power — and how it transformed America. In the standard story, the suffrage crusade began in Seneca Falls in 1848 and ended with the ratification of the Nineteenth Amendment in 1920. But this overwhelmingly white women's movement did not win the vote for most black women. Securing their rights required a movement of their own. In Vanguard , acclaimed historian Martha S. Jones offers a new history of African American women's political lives in America. She recounts how they defied both racism and sexism to fight for the ballot, and how they wielded political power to secure the equality and dignity of all persons. From the earliest days of the republic to the passage of the 1965 Voting Rights Act and beyond, Jones excavates the lives and work of black women–Maria Stewart, Frances Ellen Watkins Harper, Fannie Lou Hamer, and more–who were the vanguard of women's rights, calling on America to realize its best ideals.
Available Formats: Book
---
Why They Marched: Untold Stories of the Women Who Fought for the Right to Vote by Susan Ware
Looking beyond the national leadership of the suffrage movement, an acclaimed historian gives voice to the thousands of women from different backgrounds, races, and religions whose local passion and protest resounded throughout the land. For far too long, the history of how American women won the right to vote has been told as the tale of a few iconic leaders, all white and native-born. But Susan Ware uncovered a much broader and more diverse story waiting to be told. Why They Marched is a tribute to the many women who worked tirelessly in communities across the nation, out of the spotlight, protesting, petitioning, and insisting on their right to full citizenship. Ware tells her story through the lives of nineteen activists, most of whom have long been overlooked. We meet Mary Church Terrell, a multilingual African American woman; Rose Schneiderman, a labor activist building coalitions on New York's Lower East Side; Claiborne Catlin, who toured the Massachusetts countryside on horseback to drum up support for the cause; Mary Johnston, an aristocratic novelist bucking the Southern ruling elite; Emmeline W. Wells, a Mormon woman in a polygamous marriage determined to make her voice heard; and others who helped harness a groundswell of popular support. We also see the many places where the suffrage movement unfolded–in church parlors, meeting rooms, and the halls of Congress, but also on college campuses and even at the top of Mount Rainier. Few corners of the United States were untouched by suffrage activism. Ware's deeply moving stories provide a fresh account of one of the most significant moments of political mobilization in American history. The dramatic, often joyous experiences of these women resonate powerfully today, as a new generation of young women demands to be heard.
Available Formats: Book
---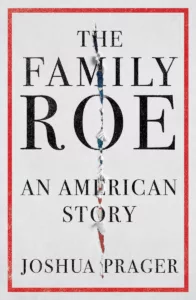 The Family Roe: An American Story by Joshua Prager
Despite her famous pseudonym, "Jane Roe," no one knows the truth about Norma McCorvey (1947-2017), whose unwanted pregnancy in 1969 opened a great fracture in American life. Journalist Joshua Prager spent hundreds of hours with Norma, discovered her personal papers–a previously unseen trove–and witnessed her final moments. The Family Roe presents her life in full. Propelled by the crosscurrents of sex and religion, gender and class, it is a life that tells the story of abortion in America.
Prager begins that story on the banks of Louisiana's Atchafalaya River where Norma was born, and where unplanned pregnancies upended generations of her forebears. A pregnancy then upended Norma's life too, and the Dallas waitress became Jane Roe.
Drawing on a decade of research, Prager reveals the woman behind the pseudonym, writing in novelistic detail of her unknown life from her time as a sex worker in Dallas, to her private thoughts on family and abortion, to her dealings with feminist and Christian leaders, to the three daughters she placed for adoption.
Prager found those women, including the youngest–Baby Roe–now fifty years old. She shares her story in The Family Roe for the first time, from her tortured interactions with her birth mother, to her emotional first meeting with her sisters, to the burden that was uniquely hers from conception.
The Family Roe abounds in such revelations–not only about Norma and her children but about the broader "family" connected to the case. Prager tells the stories of activists and bystanders alike whose lives intertwined with Roe. In particular, he introduces three figures as important as they are unknown: feminist lawyer Linda Coffee, who filed the original Texas lawsuit yet now lives in obscurity; Curtis Boyd, a former fundamentalist Christian, today a leading provider of third-trimester abortions; and Mildred Jefferson, the first black female Harvard Medical School graduate, who became a pro-life leader with great secrets.
Available Formats: Book
---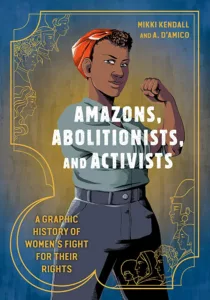 Amazons, Abolitionists, and Activists: A Graphic History of Women's Fight For Their Rights by Mikki Kendall
August 26, 2020, marks the 100th anniversary of the passage of the 19th Amendment, which granted American women the right to vote. And while suffrage has been a critical win for women's liberation around the world, the struggle for women's rights has been ongoing for thousands of years, across many cultures, and encompassing an enormous variety of issues. Amazons, Abolitionists, and Activists is a fun, fascinating, and full-color exploration of that important history, tracing its roots from antiquity to show how 21st-century feminism developed. Along the way, you'll meet a wide range of important historical figures and learn about many political movements, including suffrage, abolition, labor, LGBT liberation, the waves of feminism, and more.
Available Formats: Graphic Novel
---
My Life On the Road by Gloria Steinem
"When people ask me why I still have hope and energy after all these years, I always say: Because I travel. Taking to the road–by which I mean letting the road take you–changed who I thought I was. The road is messy in the way that real life is messy. It leads us out of denial and into reality, out of theory and into practice, out of caution and into action, out of statistics and into stories–in short, out of our heads and into our hearts." Gloria Steinem had an itinerant childhood. When she was a young girl, her father would pack the family in the car every fall and drive across country searching for adventure and trying to make a living. The seeds were planted: Gloria realized that growing up didn't have to mean settling down. And so began a lifetime of travel, of activism and leadership, of listening to people whose voices and ideas would inspire change and revolution. My Life on the Road is the moving, funny, and profound story of Gloria's growth and also the growth of a revolutionary movement for equality–and the story of how surprising encounters on the road shaped both. From her first experience of social activism among women in India to her work as a journalist in the 1960s; from the whirlwind of political campaigns to the founding of Ms. magazine; from the historic 1977 National Women's Conference to her travels through Indian Country–a lifetime spent on the road allowed Gloria to listen and connect deeply with people, to understand that context is everything, and to become part of a movement that would change the world. In prose that is revealing and rich, Gloria reminds us that living in an open, observant, and "on the road" state of mind can make a difference in how we learn, what we do, and how we understand each other. Praise for My Life on the Road "This legendary feminist makes a compelling case for traveling as listening: a way of letting strangers' stories flow, as she puts it, 'out of our heads and into our hearts.'" — People "Like Steinem herself, [ My Life on the Road ] is thoughtful and astonishingly humble. It is also filled with a sense of the momentous while offering deeply personal insights into what shaped her." — O: The Oprah Magazine "A lyrical meditation on restlessness and the quest for equity . . . Part of the appeal of My Life is how Steinem, with evocative, melodic prose, conveys the air of discovery and wonder she felt during so many of her journeys. . . . The lessons imparted in Life on the Road offer more than a reminiscence. They are a beacon of hope for the future." — USA Today "A warmly companionable look back at nearly five decades as itinerant feminist organizer and standard-bearer. If you've ever wondered what it might be like to sit down with Ms. Steinem for a casual dinner, this disarmingly intimate book gives a pretty good idea, mixing hard-won pragmatic lessons with more inspirational insights." — The New York Times "Steinem rocks. My Life on the Road abounds with fresh insights and is as populist as can be." — The Boston Globe
Available Formats: Book, eBook, Audiobook
---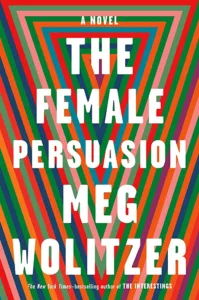 The Female Persuasion by Meg Wolitzer
To be admired by someone we admire–we all yearn for this: the private, electrifying pleasure of being singled out by someone of esteem. But sometimes it can also mean entry to a new kind of life, a bigger world. Greer Kadetsky is a shy college freshman when she meets the woman she hopes will change her life. Faith Frank, dazzlingly persuasive and elegant at sixty-three, has been a central pillar of the women's movement for decades, a figure who inspires others to influence the world. Upon hearing Faith speak for the first time, Greer–madly in love with her boyfriend, Cory, but still full of longing for an ambition that she can't quite place–feels her inner world light up. And then, astonishingly, Faith invites Greer to make something out of that sense of purpose, leading Greer down the most exciting path of her life as it winds toward and away from her meant-to-be love story with Cory and the future she'd always imagined. Charming and wise, knowing and witty, Meg Wolitzer delivers a novel about power and influence, ego and loyalty, womanhood and ambition. At its heart, The Female Persuasion is about the flame we all believe is flickering inside of us, waiting to be seen and fanned by the right person at the right time. It's a story about the people who guide and the people who follow (and how those roles evolve over time), and the desire within all of us to be pulled into the light.
Available Formats: Book
---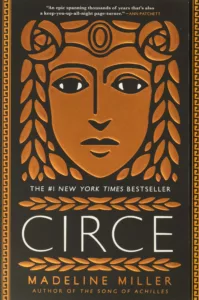 Circe by Madeline Miller
n the house of Helios, god of the sun and mightiest of the Titans, a daughter is born. But Circe is a strange child — not powerful, like her father, nor viciously alluring like her mother. Turning to the world of mortals for companionship, she discovers that she does possess power — the power of witchcraft, which can transform rivals into monsters and menace the gods themselves. Threatened, Zeus banishes her to a deserted island, where she hones her occult craft, tames wild beasts and crosses paths with many of the most famous figures in all of mythology, including the Minotaur, Daedalus and his doomed son Icarus, the murderous Medea, and, of course, wily Odysseus. But there is danger, too, for a woman who stands alone, and Circe unwittingly draws the wrath of both men and gods, ultimately finding herself pitted against one of the most terrifying and vengeful of the Olympians. To protect what she loves most, Circe must summon all her strength and choose, once and for all, whether she belongs with the gods she is born from, or the mortals she has come to love. With unforgettably vivid characters, mesmerizing language, and page-turning suspense, Circe is a triumph of storytelling, an intoxicating epic of family rivalry, palace intrigue, love and loss, as well as a celebration of indomitable female strength in a man's world. #1 New York Times Bestseller — named one of the Best Books of the Year by NPR, the Washington Post , People , Time , Amazon, Entertainment Weekly , Bustle , Newsweek , the A.V. Club, Christian Science Monitor , Refinery 29 , Buzzfeed, Paste, Audible, Kirkus , Publishers Weekly , Thrillist, NYPL, Self , Real Simple , Goodreads, Boston Globe , Electric Literature, BookPage, the Guardian , Book Riot, Seattle Times , and Business Insider .
Available Formats: Book, eBook, Audiobook, eAudiobook
---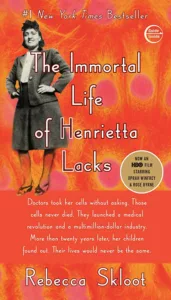 The Immortal Life of Henrietta Lacks by Rebecca Skloot
Her name was Henrietta Lacks, but scientists know her as HeLa. She was a poor Southern tobacco farmer who worked the same land as her slave ancestors, yet her cells–taken without her knowledge–became one of the most important tools in medicine: The first "immortal" human cells grown in culture, which are still alive today, though she has been dead for more than sixty years. HeLa cells were vital for developing the polio vaccine; uncovered secrets of cancer, viruses, and the atom bomb's effects; helped lead to important advances like in vitro fertilization, cloning, and gene mapping; and have been bought and sold by the billions. Yet Henrietta Lacks remains virtually unknown, buried in an unmarked grave. Henrietta's family did not learn of her "immortality" until more than twenty years after her death, when scientists investigating HeLa began using her husband and children in research without informed consent. And though the cells had launched a multimillion-dollar industry that sells human biological materials, her family never saw any of the profits. As Rebecca Skloot so brilliantly shows, the story of the Lacks family–past and present–is inextricably connected to the dark history of experimentation on African Americans, the birth of bioethics, and the legal battles over whether we control the stuff we are made of. Over the decade it took to uncover this story, Rebecca became enmeshed in the lives of the Lacks family–especially Henrietta's daughter Deborah. Deborah was consumed with questions: Had scientists cloned her mother? Had they killed her to harvest her cells? And if her mother was so important to medicine, why couldn't her children afford health insurance? Intimate in feeling, astonishing in scope, and impossible to put down, The Immortal Life of Henrietta Lacks captures the beauty and drama of scientific discovery, as well as its human consequences.
Available Formats: Book, eBook, Audiobook, eAudiobook
---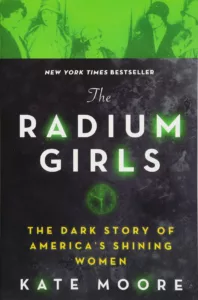 The Radium Girls: The Dark Story of America's Shining Women by Kate Moore
Explore the unbelievable true story of America's glowing girls and their fight for justice in the young readers edition of the New York Times and USA Today bestseller The Radium Girls. This enthralling new edition includes all-new material, including a glossary, timeline, and dozens of bonus photos.
Amid the excitement of the early twentieth century, hundreds of young women spend their days hard at work painting watch dials with glow-in-the-dark radium paint. The painters consider themselves lucky–until they start suffering from a mysterious illness. As the corporations try to cover up a shocking secret, these shining girls suddenly find themselves at the center of a deadly scandal.
The Radium Girls: Young Readers Edition tells the unbelievable true story of these incredible women, whose determination to fight back saved countless lives.
Available Formats: Book, eBook, Audiobook, eAudiobook
---
We love helping people find books, movies, and more.
Tell us about your preferences, and our librarians will create a list of titles selected specifically for you.