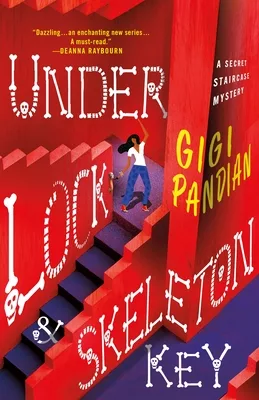 Gigi Pandian's newest series kicks off with Under Lock & Skeleton Key, a locked room mystery featuring disgraced stage magician Tempest Raj. Set in the San Francisco Bay Area, Tempest has returned to her childhood home after a disastrous, career destroying performance, to seek comfort from her family, especially her grandfather's Indian home-cooked meals. As Tempest tries to sort out her life, her father encourages her to come work for his company, Secret Staircase Construction. Her talent for illusion and stage magic would be perfect for the work they do transforming homes with sliding bookcases, hidden rooms, whimsical backyard treehouses, and intricate puzzle locks. But while visiting her father's latest renovation project, her former stage double is discovered dead inside a wall that clearly hasn't been touched for years. How did the body get there? Was Tempest the intended murder victim or the target of a frame-up? Tempest must solve this impossible mystery while keeping herself and her family safe. She can't help but wonder if the Raj family curse has finally come for her. 
Under Lock & Skeleton Key is a great locked room mystery to kick off the newest series by Gigi Pandian. Her engaging characters and quirky plots are set off against a backdrop of stunning architecture and mouth watering meals, recipes included. Perfect for fans of golden-age locked room mysteries or modern day cozy mysteries, this book hits all the sweet spots. The plot moves along quickly and the eclectic cast of characters will be instant favorites. 
Looking for more cozy mysteries? Try Arsenic and Adobo by Mia Manansala, Sprinkle with Murder by Jenn McKinlay, Home Improvement: Undead Edition, A is for Aunties by Jesse Q. Sutanto, or A High-End Finish by Kate Carlisle. 
We love helping people find books, movies, and more.
Tell us about your preferences, and our librarians will create a list of titles selected specifically for you.