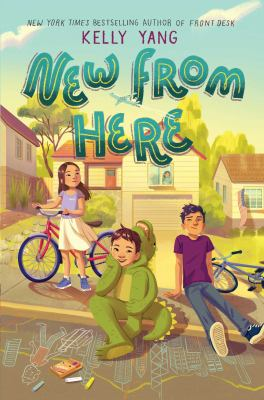 With rising COVID-19 cases in China, the Wei-Evans family make the difficult, last-minute decision to move from Hong Kong to America in January 2020. The Chinese-American mom and her three children leave for California, while their white American dad stays behind to work. Thinking they will be safer in the States, the family faces many challenges as they struggle to adjust to a separated family, new schools, financial issues, job loss, and an ADHD diagnosis. They also deal with rising prejudice and discrimination as the virus spreads to America.
Drawn from the author's own experiences, this is a moving story that explores the stress that a pandemic can put on an Asian-American family. The family is made up of realistic, sympathetic characters who work to overcome their struggles with relocation. They also deal with varying degrees of racism based on their appearances. Told from the perspective of Knox, the middle child, Yang also depicts how the family lives with and comes to understand Knox's ADHD diagnosis. However, humor and hopefulness help offset these heavy topics. The children go through hilarious and heartwarming antics to reunite their family by raising money for a plane ticket and attempting to find a job for their dad. At its core, family dynamics, character growth, and familial bonds shine in this story. At the end of the day, Yang stresses that love and kindness can help combat hatred and racism. 
-written by guest reviewer Jessa Mendiola
We love helping people find books, movies, and more.
Tell us about your preferences, and our librarians will create a list of titles selected specifically for you.