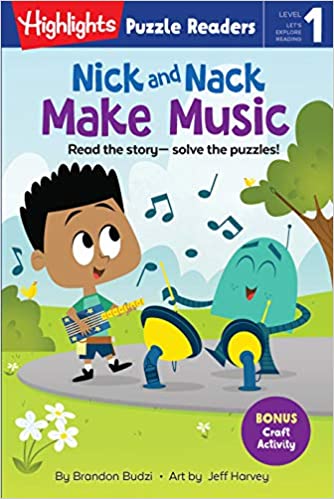 This book for beginning readers is a Highlights Puzzle Reader, combining a simple story with the fun addition of seek and find puzzles. Nick is a brown skinned boy who loves to make things and Nack is a robot who is good at finding things. The two make a great team. Nick is inspired to create a guitar out of materials around his home and Nack is eager to help find all the items Nick needs. The reader can also help by solving visual puzzles, such as looking for the 5 pairs of scissors hidden in a picture or helping Nick find a long tube to use for the neck of the guitar. This fun story includes plenty of word repetition, decodable text, and simple sight words, while the pictures are bright and fun. The text that tells the reader what to search for is blue while the story text is black, clearly differentiating the two.
The visual puzzles can help sharpen observational skills and concentration and may motivate some young readers, but for other readers the puzzles may be a distraction. As a bonus, instructions for making your own guitar out of recycled and common objects are included, extending the learning experience beyond the book.
We love helping people find books, movies, and more.
Tell us about your preferences, and our librarians will create a list of titles selected specifically for you.