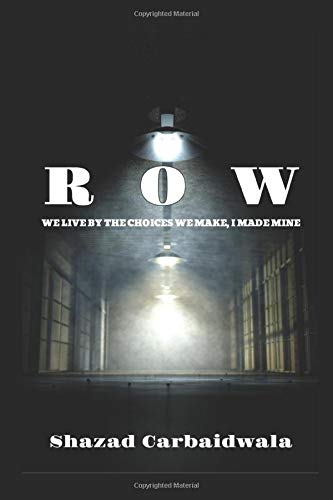 "I am walking the hallway nearing the chamber. My heart pounding out of my chest like a drum. Minutes, seconds, steps, away from being put to rest." As the days tarnish Fayaz sits in his jail cell reflecting on his life's triumphs and tragedies. He writes his daily journals in the notorious San Quentin prison. Each journal entry, one day closer to his execution. He documents for his family and friends, trying to leave one more lasting memory before he is slayed. Locked away 23 hours. No social interaction. Only living in his closed cell with nothing but his thoughts and a writing pad. Insanity is at the forefront as he fights his past inner demons. But life is going to end very soon as each day gets closer and closer to the notorious San Quentin lethal injection that has massacred over 1,200 men. Will he get a stay of execution or will life as he knows it be coming to an end?
A deeply personal story, Row details the story of Fayaz who mirrors author Shazad Carbaidwala's own experiences. This novel reads like a memoir at times and pulls the reader in with its deeply personal story. While the subject matter is heavy, Carbaidwala handles it well and keeps the reader engaged. The story moves at a brisk pace and at times feels like a thriller.
In order to write Row, Carbaidwala did countless hours of research, reading books on street gangs, jails, drug addictions, and death row inmates. He also viewed numerous documentaries on capital punishment and inmates' lives in federal institutions, as well as the infrastructure at San Quentin prison. He did field research by speaking with inmates at  Devens Medical Center located in Devens, Massachusetts, as well as with high risk youth for a non-profit organization in Chelsea, Massachusetts. He also served his community as an auxiliary police officer.
Shazad Carbaidwala is a Westmont resident and Library patron.
We love helping people find books, movies, and more.
Tell us about your preferences, and our librarians will create a list of titles selected specifically for you.