For the 1930s, we've highlighted a selection of titles to highlight the ratification of the Twenty-first Amendment to the U.S. Constitution otherwise known as the repeal to Prohibition!
---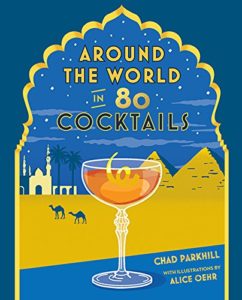 Around the World in 80 Cocktails by Chad Parkhill
"Ever since its invention in the late-18th century, the cocktail has been a global traveler. Born in England and raised in America, the cocktail takes influences from all over the world and mixes them up into exciting new combinations. Around the World in 80 Cocktails celebrates the globetrotting history of the cocktail through eighty different cocktails – each with its own story to tell. Bartender and writer Chad Parkhill takes you on a whirlwind tour of the places that have shaped the history of the cocktail from its birth to the present day, with recipes so you can follow along at home. You'll learn about the surprising military history behind the bubbly, vivacious Venetian Spritz; how the G&T moved from India to England (and why the best in the world are now made in Spain); and how France's Burgundy region turned tragedy into triumph with the Kir." – Provided by publisher
Available Formats: Book
---
Dry: Delicious Handcrafted Cocktails and Other Clever Concoctions—Seasonal, Refreshing, Alcohol-Free by Clare Liardet
"A nonalcoholic cocktail recipe book for expecting mothers, teetotalers, those hoping to lose weight, and anyone else looking for alternatives to alcoholic cocktails"– Provided by publisher.
Available Formats: Book
---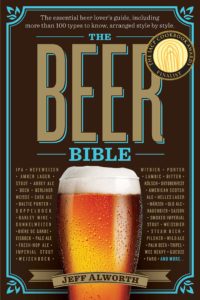 The Beer Bible by Jeff Alworth
"Imagine sitting in your favorite pub with a friend who happens to be a world-class expert on beer. That's this book.
It covers the history: how we got from gruel-beer to black IPA in 10,000 years. The alchemy: malts, grains, and the miracle of hops. The variety: dozens of styles and hundreds of recommended brews (including suggestions based on your taste preferences), divided into four sections––Ales, Wheat Beers, Lagers, and Tart and Wild Ales––and all described in mouthwatering detail. The curiosity: how to read a Belgian label; the talk of two Budweisers; porter, the first superstyle; and what, exactly, a lager is. The pleasure. Because you don't merely taste beer, you experience it." – Provided by publisher
Available Formats: Book, eBook
---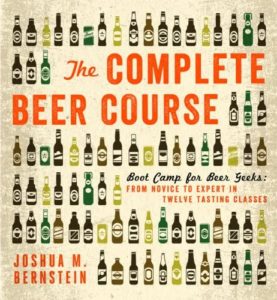 The Complete Beer Course: Boot Camp for Beer Geeks: From Novice to Expert in Twelve Tasting Classes by Joshua M. Bernstein
"It's a great time to be a beer drinker, but also the most confusing, thanks to the dizzying array of available draft beers. Expert Joshua M. Bernstein comes to the rescue with The Complete Beer Course, demystifying brews and breaking down the elements that make beer's flavor spin into distinctively different and delicious directions. Structured around a series of easy-to-follow classes, his course hops from lagers and pilsners to hazy wheat beers, Belgian-style abbey and Trappist ales, aromatic pale ales and bitter IPAs, roasty stouts, barrel-aged brews, belly-warming barley wines, and mouth-puckering sour ales. There is even a class on international beer styles and another on pairing beer with food and starting your own beer cellar. Through suggested, targeted tastings, you'll learn when to drink down-and when to dump those beers down a drain." – Provided by Publisher
Available Formats: Book
---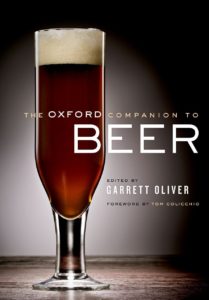 The Oxford Companion to Beer by Garrett Oliver
"For millennia, beer has been a favorite beverage in cultures across the globe. After water and tea, it is the most popular drink in the world, and it is at the center of a $450 billion industry. The first major reference work to investigate the history and vast scope of beer, The Oxford Companion to Beer features more than 1,100 A-Z entries written by 166 of the world's most prominent beer experts. Attractively illustrated with over 140 images, the book covers everything from the agricultural makeup of various beers to the technical elements of the brewing process, local effects of brewing on regions around the world, and the social and political implications of sharing a beer. Entries not only define terms such as "dry hopping" and "cask conditioning" but give fascinating details about how these and other techniques affect a beer's taste, texture, and popularity. Cultural entries shed light on such topics as pub games, food pairings and the development of beer styles. Readers will enjoy vivid accounts of how our drinking traditions have changed throughout history, and how these traditions vary in different parts of the world, from Japan to Mexico, New Zealand, and Brazil, among many other countries. The pioneers of beer-making are the subjects of biographical entries, and the legacies these pioneers have left behind, in the form of the world's most popular beers and breweries, are recurrent themes throughout the book. Packed with information, this comprehensive resource also includes thorough appendices (covering beer festivals, beer magazines, and more), conversion tables, and an index. Featuring a foreword by Tom Colicchio, this book is the perfect shelf-mate to Oxford's renowned Companion to Wine and an absolutely indispensable volume for everyone who loves beer as well as all beverage professionals, including home brewers, restaurateurs, journalists, cooking school instructors, beer importers, distributors, and retailers, and a host of others"– Provided by publisher.
Available Formats: Book
---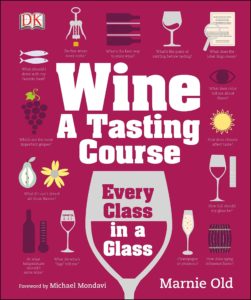 Wine : A Tasting Course by Marnie Old
"Can't smell honeysuckle in that glass of sauvignon blanc, or wondering which end of a bottle of chianti is the "nose"? With this immersive guide to all things wine you'll soon become an expert. Discover which wines you like and why, read about the journey from grape to glass, and build on your understanding with vibrant infographics in this fresh take on the world of wine.
Easy to understand and jargon-free, this no-nonsense book will help you to appreciate talking, tasting, and enjoying wine in everyday life. Explore red wines and white, and those all-important food and wine pairings, then get to grips with grape varieties and regions. Drink alongside your discoveries with fun wine tasting tests that cover wines from all over the world and learn key wine facts in "Did you know" boxes." – Provided by publisher
Available formats: Book
---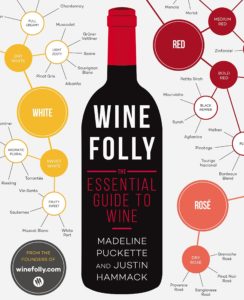 Wine Folly: The Essential Guide to Wine by Madeline Puckette and Justin Hammack 

"Red or white? Cabernet or merlot? Light or bold? What to pair with food? Drinking great wine isn't hard, but finding great wine does require a deeper understanding of the fundamentals.
Wine Folly: The Essential Guide to Wine will help you make sense of it all in a unique infographic wine book. Designed by the creators of the Wine Folly website, which has won Wine Blogger of the Year from the International Wine & Spirits Competition, this book combines sleek, modern information design with data visualization and gives readers pragmatic answers to all their wine questions, including:
• Detailed taste profiles of popular and under-the-radar wines.
• A guide to pairing food and wine.
• A wine-region section with detailed maps.
• Practical tips and tricks for serving wine.
• Methods for tasting wine and identifying flavors." – Provided by publisher
Available formats: Book
---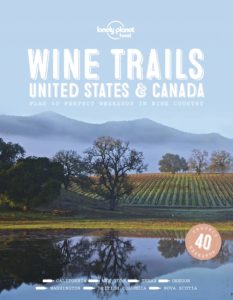 Wine Trails: United States & Canada by Lonely Planet
"Wine Trails – United States and Canada is perfect for travel enthusiasts with a passion for wine. It includes detailed itineraries recommending the most interesting wineries and the best places to stay and where to eat in 40 wine regions near major cities.
Winemakers offer personal insights into what wines to taste and why they're special, and help you understand a place, its people and their traditions through the wine that's made there. Entries are accompanied by gorgeous photos, maps and in-the-know authors." – Provided by publisher
Available Formats: Book
---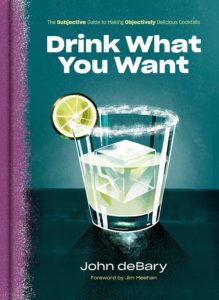 Drink What You Want: The Subjective Guide to Making Objectively Delicious Cocktails by John deBary
"John deBary is a veritable cocktail expert with a 100-proof personality, a dash of fun, and garnished with flair—there's nothing muddled about him. In Drink What You Want, John breaks down the science of mixology (yes, it's a science) and explains the rules of drink-making. Most important, you'll learn how to tweak any drink, both classic and creative, to your preferences and moods. Are you adventurous or traditional? Sweet or bitter? Brown liquor or clear?
While giving newbies a rundown of cocktail culture, lingo, and etiquette, John turns the "cocktail book" concept on its ear by infusing a traditionally formal topic with his fresh, conversational voice. Mixology geeks and bottomless brunchers alike will revel in the craft of the cocktail, from classic to modern to funky. Cocktails are about creativity and setting the mood, and Drink What You Want overflows with both." – Provided by publisher
Available Formats: Book
---
We love helping people find books, movies, and more.
Tell us about your preferences, and our librarians will create a list of titles selected specifically for you.