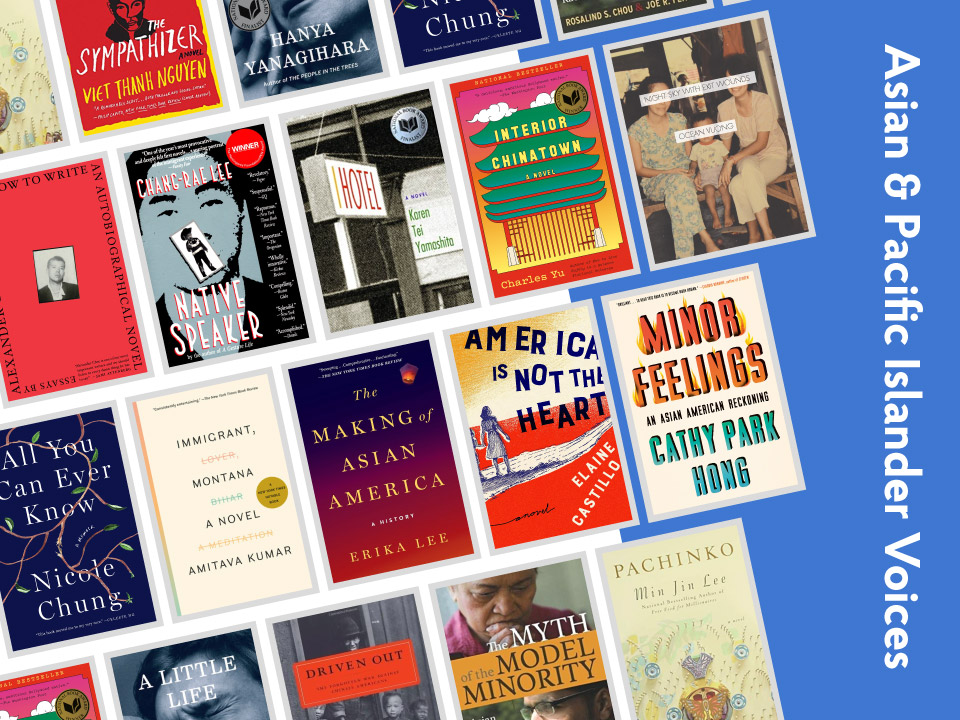 We hope these selections serve to spotlight #ownvoices stories by authors of Asian and Pacific Islander heritage, introduce readers to diverse writers and perspectives, and educate and encourage a dialogue on topics of racial justice in AAPI communities.
---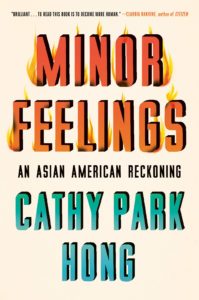 Minor Feelings by Cathy Park Hong
"Asian Americans inhabit a purgatorial status: neither white enough nor black enough, unmentioned in most conversations about racial identity. In the popular imagination, Asian Americans are all high-achieving professionals. But in reality, this is the most economically divided group in the country, a tenuous alliance of people with roots from South Asia to East Asia to the Pacific Islands, from tech millionaires to service industry laborers. How do we speak honestly about the Asian American condition–if such a thing exists? Poet and essayist Cathy Park Hong fearlessly and provocatively confronts this thorny subject, blending memoir, cultural criticism, and history to expose the truth of racialized consciousness in America. Binding these essays together is Hong's theory of "minor feelings." As the daughter of Korean immigrants, Cathy Park Hong grew up steeped in shame, suspicion, and melancholy. She would later understand that these "minor feelings" occur when American optimism contradicts your own reality–when you believe the lies you're told about your own racial identity. With sly humor and a poet's searching mind, Hong uses her own story as a portal into a deeper examination of racial consciousness in America today. This intimate and devastating book traces her relationship to the English language, to shame and depression, to poetry and artmaking, and to family and female friendship. A radically honest work of art, Minor Feelings forms a portrait of one Asian American psyche–and of a writer's search to both uncover and speak the truth"– Provided by publisher.
Available Formats: Book
---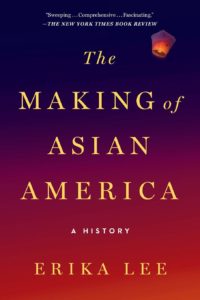 The Making of Asian America by Erika Lee
"The definitive history of Asian Americans by one of the nation's preeminent scholars on the subject. In the past fifty years, Asian Americans have helped change the face of America and are now the fastest growing group in the United States. But as award-winning historian Erika Lee reminds us, Asian Americans also have deep roots in the country. The Making of Asian America tells the little-known history of Asian Americans and their role in American life, from the arrival of the first Asians in the Americas to the present-day. An epic history of global journeys and new beginnings, this book shows how generations of Asian immigrants and their American-born descendants have made and remade Asian American life in the United States: sailors who came on the first trans-Pacific ships in the 1500s; indentured "coolies" who worked alongside African slaves in the Caribbean; and Chinese, Japanese, Filipino, Korean, and South Asian immigrants who were recruited to work in the United States only to face massive racial discrimination, Asian exclusion laws, and for Japanese Americans, incarceration during World War II. Over the past fifty years, a new Asian America has emerged out of community activism and the arrival of new immigrants and refugees. No longer a "despised minority," Asian Americans are now held up as America's "model minorities" in ways that reveal the complicated role that race still plays in the United States. Published to commemorate the fiftieth anniversary of the passage of the United States' Immigration and Nationality Act of 1965 that has remade our "nation of immigrants," this is a new and definitive history of Asian Americans. But more than that, it is a new way of understanding America itself, its complicated histories of race and immigration, and its place in the world today"– Provided by publisher.
Available Formats: Book, Audiobook, eBook, eAudiobook
---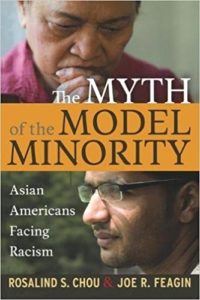 The Myth of the Model Minority by Rosalind S. Chou and Joe R. Feagin
"With their apparent success in schools and careers, Asian Americans have long been viewed by white Americans as the "model minority." Yet few Americans realize the lives of many Asian Americans are constantly stressed by racism. This reality becomes clear from the voices of Asian Americans heard in this first in-depth book on the experiences of racism among Asian Americans from many different nations and social classes. Chou and Feagin assess racial stereotyping and discrimination from dozens of interviews across the country with Asian Americans in a variety of settings, from elementary schools to colleges, workplaces, and other public arenas. They explore the widely varied ways of daily coping that Asian Americans employ-some choosing to conform and others actively resisting. This book dispels notions that Asian Americans are universally "favored" by whites and have an easy time adapting to life in American society. The authors conclude with policy measures that can improve the lives not only of Asian Americans but also of other Americans of color."
Available Formats: Book
---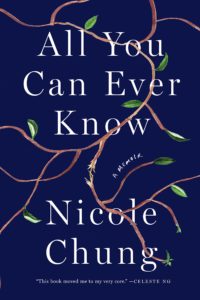 All You Can Ever Know by Nicole Chung
"What does it mean to lose your roots–within your culture, within your family–and what happens when you find them? Nicole Chung was born severely premature, placed for adoption by her Korean parents, and raised by a white family in a sheltered Oregon town. From childhood, she heard the story of her adoption as a comforting, prepackaged myth. She believed that her biological parents had made the ultimate sacrifice in the hope of giving her a better life, that forever feeling slightly out of place was her fate as a transracial adoptee. But as Nicole grew up–facing prejudice her adoptive family couldn't see, finding her identity as an Asian American and as a writer, becoming ever more curious about where she came from–she wondered if the story she'd been told was the whole truth. With warmth, candor, and startling insight, Nicole Chung tells of her search for the people who gave her up, which coincided with the birth of her own child. [This book] is a profound, moving chronicle of surprising connections and the repercussions of unearthing painful family secrets–vital reading for anyone who has ever struggled to figure out where they belong."–Dust jacket.
Available Formats: Book, Audiobook
---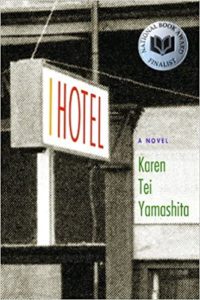 I Hotel by Karen Tei Yamashita
Beginning in 1968, a motley cast of students, laborers, artists, revolutionaries, and provocateurs from San Francisco's Chinatown make their way through the history of the day, becoming caught in a riptide of politics and passion, clashing ideologies and personal turmoil that culminate in their effort to save the International Hotel–epicenter of the Yellow Power Movement.
Available Formats: Book, Audiobook, eBook, eAudiobook
---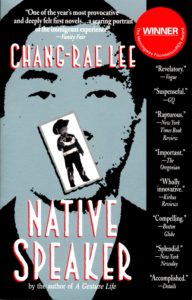 Native Speaker by Chang-Rae Lee
In Native Speaker, author Chang-rae Lee introduces readers to Henry Park. Park has spent his entire life trying to become a true American—a native speaker. But even as the essence of his adopted country continues to elude him, his Korean heritage seems to drift further and further away.
Park's harsh Korean upbringing has taught him to hide his emotions, to remember everything he learns, and most of all to feel an overwhelming sense of alienation. In other words, it has shaped him as a natural spy.
But the very attributes that help him to excel in his profession put a strain on his marriage to his American wife and stand in the way of his coming to terms with his young son's death. When he is assigned to spy on a rising Korean-American politician, his very identity is tested, and he must figure out who he is amid not only the conflicts within himself but also within the ethnic and political tensions of the New York City streets.
Native Speaker is a story of cultural alienation. It is about fathers and sons, about the desire to connect with the world rather than stand apart from it, about loyalty and betrayal, about the alien in all of us and who we finally are.
Available Formats: Book
---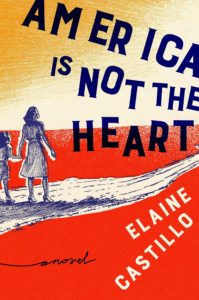 America Is Not the Heart by Elaine Castillo
"After fleeing the Philippines, Hero De Vera arrives at her uncles where she is given a fresh start. He asks no questions about her disturbing political past, but his daughter, the first American-born family member, is unable to resist her curiosity especially about her cousin's damaged hands." – Provided by Publisher
Available Formats: Book
---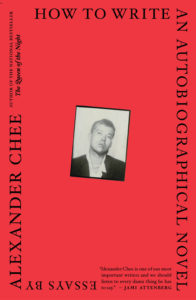 How to Write an Autobiographical Novel: Essays by Alexander Chee
As a novelist, Alexander Chee has been described as "masterful" by Roxane Gay, "incendiary" by the New York Times, and "brilliant" by the Washington Post. With How to Write an Autobiographical Novel, his first collection of nonfiction, he's sure to secure his place as one of the finest essayists of his generation as well.
How to Write an Autobiographical Novel is the author's manifesto on the entangling of life, literature, and politics, and how the lessons learned from a life spent reading and writing fiction have changed him. In these essays, he grows from student to teacher, reader to writer, and reckons with his identities as a son, a gay man, a Korean American, an artist, an activist, a lover, and a friend. He examines some of the most formative experiences of his life and the nation's history, including his father's death, the AIDS crisis, 9/11, the jobs that supported his writing—Tarot-reading, bookselling, cater-waiting for William F. Buckley—the writing of his first novel, Edinburgh, and the election of Donald Trump.
By turns commanding, heartbreaking, and wry, How to Write an Autobiographical Novel asks questions about how we create ourselves in life and in art, and how to fight when our dearest truths are under attack. – Provided by Publisher
Available Formats: Book, Audiobook, eBook
---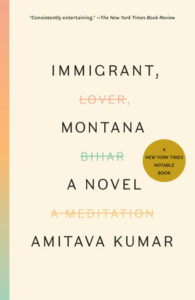 Immigrant, Montana: A Novel by Amitava Kumar
"The author of the widely praised Lunch with a Bigot now gives us a remarkable novel–reminiscent of Teju Cole, W.G. Sebald, John Berger–about a young new immigrant to the U.S. in search of love: across dividing lines between cultures, between sexes, and between the particular desires of one man and the women he comes to love. The young man is Kailash, from India. His new American friends call him Kalashnikov, AK-47, AK. He takes it all in his stride: he wants to fit in–and more than that, to shine. In the narrative of his years at a university in New York, AK describes the joys and disappointments of his immigrant experience; the unfamiliar political and social textures of campus life; the indelible influence of a charismatic professor–also an immigrant, his personal history as dramatic as AK's is decidedly not; the very different natures of the women he loved, and of himself in and out of love with each of them. Telling his own story, AK is both meditative and the embodiment of the enthusiasm of youth in all its idealism and chaotic desires. His wry, vivid perception of the world he's making his own, and the brilliant melding of story and reportage, anecdote and annotation, picture and text, give us a singularly engaging, insightful, and moving novel–one that explores the varieties and vagaries of cultural misunderstanding, but is, as well, an impassioned investigation of love"– Provided by publisher.
Available Formats: Book
---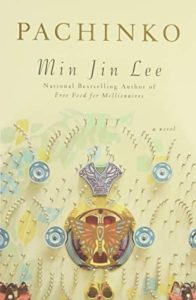 Pachinko by Min Jin Lee
"A new tour de force from the bestselling author of Free Food for Millionaires, for readers of The Kite Runner and Cutting for Stone. PACHINKO follows one Korean family through the generations, beginning in early 1900s Korea with Sunja, the prized daughter of a poor yet proud family, whose unplanned pregnancy threatens to shame them all. Deserted by her lover, Sunja is saved when a young tubercular minister offers to marry and bring her to Japan. So begins a sweeping saga of an exceptional family in exile from its homeland and caught in the indifferent arc of history. Through desperate struggles and hard-won triumphs, its members are bound together by deep roots as they face enduring questions of faith, family, and identity"– Provided by publisher.
Available Formats: Book, Audiobook, eBook, eAudiobook
---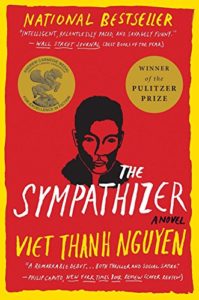 The Sympathizer by Viet Thanh
"It is April 1975, and Saigon is in chaos. At his villa, a general of the South Vietnamese army is drinking whiskey and, with the help of his trusted captain, drawing up a list of those who will be given passage aboard the last flights out of the country. The general and his compatriots start a new life in Los Angeles, unaware that one among their number, the captain, is secretly observing and reporting on the group to a higher-up in the Viet Cong. The Sympathizer is the story of this captain: a man brought up by an absent French father and a poor Vietnamese mother, a man who went to university in America, but returned to Vietnam to fight for the Communist cause. A gripping spy novel, an astute exploration of extreme politics, and a moving love story, The Sympathizer explores a life between two worlds and examines the legacy of the Vietnam War in literature, film, and the wars we fight today"–Amazon.com.
Available Formats: Book, Audiobook, eBook, eAudiobook
---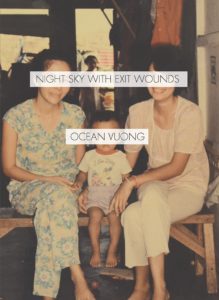 Night Sky With Exit Wounds by Ocean Vuong
"In his haunting and fearless debut, Ocean Vuong walks a tightrope of historic and personal violences, creating an interrogation of the American body as a borderless space of both failure and triumph. At once vulnerable and redemptive, dreamlike and visceral, compassionate and unforgiving, these poems seek a myriad existence without forgetting the prerequisite of self-preservation in a world bent on extinguishing its othered voices. Vuong's poems show, through breath, cadence, and unrepentant enthrallment, that a gentle palm on a chest can calm the most necessary of hungers." – Provided by Publisher
Available Formats: Book, eBook
---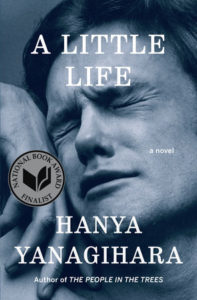 A Little Life by Hanya Yanagihara
"When four classmates from a small Massachusetts college move to New York to make their way, they're broke, adrift, and buoyed only by their friendship and ambition. There is kind, handsome Willem, an aspiring actor; JB, a quick-witted, sometimes cruel Brooklyn-born painter seeking entry to the art world; Malcolm, a frustrated architect at a prominent firm; and withdrawn, brilliant, enigmatic Jude, who serves as their center of gravity. Over the decades, their relationships deepen and darken, tinged by addiction, success, and pride. Yet their greatest challenge, each comes to realize, is Jude himself, by midlife a terrifyingly talented litigator yet an increasingly broken man, his mind and body scarred by an unspeakable childhood, and haunted by what he fears is a degree of trauma that he'll not only be unable to overcome — but that will define his life forever." – Provided by Publisher
Available Formats: Book, Audiobook, eBook
---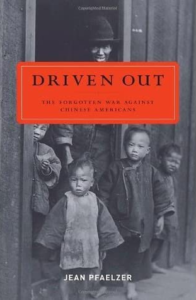 Driven Out: The Forgotten War Against Chinese Americans by Jean Pfaelzer
"Driven Out exposes a shocking story of ethnic cleansing in California and the Pacific Northwest when the first Chinese Americans were rounded up and purged from more than three hundred communities by lawless citizens and duplicitous politicians. From 1848 into the twentieth century, Chinatowns burned across the West as Chinese miners and merchants, lumberjacks and fieldworkers, prostitutes and merchants' wives were violently loaded onto railroad cars or steamers, marched out of town, or killed.
But the Chinese fought back―with arms, strikes, and lawsuits and by flatly refusing to leave. When red posters appeared on barns and windows across the United States urging the Chinese to refuse to carry photo identity cards, more than one hundred thousand joined the largest mass civil disobedience to date in the United States. The first Chinese Americans were marched out and starved out. But even facing brutal pogroms, they stood up for their civil rights. This is a story that defines us as a nation and marks our humanity." – Provided by Publisher
Available Formats: Book, eBook
---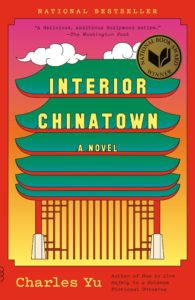 Interior Chinatown by Charles Yu
"Willis Wu doesn't perceive himself as the protagonist in his own life: he's merely Generic Asian Man. Sometimes he gets to be Background Oriental Making a Weird Face or even Disgraced Son, but always he is relegated to a prop. Yet every day, he leaves his tiny room in a Chinatown SRO and enters the Golden Palace restaurant, where Black and White, a procedural cop show, is in perpetual production. He's a bit player here, too, but he dreams of being Kung Fu Guy—the most respected role that anyone who looks like him can attain. Or is it?
After stumbling into the spotlight, Willis finds himself launched into a wider world than he's ever known, discovering not only the secret history of Chinatown, but the buried legacy of his own family. Infinitely inventive and deeply personal, exploring the themes of pop culture, assimilation, and immigration—Interior Chinatown is Charles Yu's most moving, daring, and masterful novel yet." – Provided by Publisher
Available Formats: Book, eBook, eAudiobook
---
We love helping people find books, movies, and more.
Tell us about your preferences, and our librarians will create a list of titles selected specifically for you.