Celebrate Black History Month with books by Black authors and writing focusing on Black characters, history, and culture. We hope these selections serve to educate and encourage a dialogue on topics of Black history and experiences, as well as highlight authors and stories from a variety of genres.
---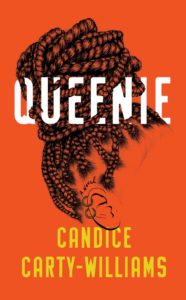 Queenie by Candice Carty-Williams
"Queenie Jenkins is a 25-year-old Jamaican British woman living in London, straddling two cultures and slotting neatly into neither. She works at a national newspaper, where she's constantly forced to compare herself to her white middle class peers. After a messy break up from her long-term white boyfriend, Queenie seeks comfort in all the wrong places … including several hazardous men who do a good job of occupying brain space and a bad job of affirming self-worth. As Queenie careens from one questionable decision to another, she finds herself wondering, 'What are you doing? Why are you doing it? Who do you want to be?' — all of the questions today's woman must face in a world trying to answer them for her."
Available Formats: Book, Audiobook
---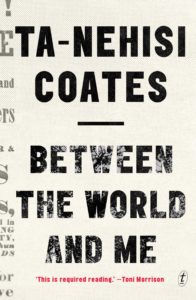 Between the World and Me by Ta-Nehisi Coates
"For Ta-Nehisi Coates, history has always been personal. At every stage of his life, he's sought in his explorations of history answers to the mysteries that surrounded him — most urgently, why he, and other black people he knew, seemed to live in fear. What were they afraid of? In Tremble for My Country, Coates takes readers along on his journey through America's history of race and its contemporary resonances through a series of awakenings — moments when he discovered some new truth about our long, tangled history of race, whether through his myth-busting professors at Howard University, a trip to a Civil War battlefield with a rogue historian, a journey to Chicago's South Side to visit aging survivors of 20th century America's 'long war on black people,' or a visit with the mother of a beloved friend who was shot down by the police. In his trademark style — a mix of lyrical personal narrative, reimagined history, essayistic argument, and reportage — Coates provides readers a thrillingly illuminating new framework for understanding race: its history, our contemporary dilemma, and where we go from here"– Provided by publisher.
Available Formats: Book, Audiobook
---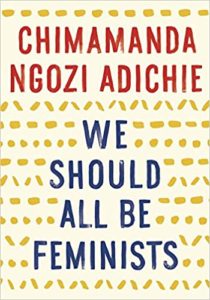 We Should All Be Feminists by Chimamanda Ngozi Adiche
"In this personal, eloquently-argued essay—adapted from the much-admired TEDx talk of the same name—Chimamanda Ngozi Adichie offers readers a unique definition of feminism for the twenty-first century, one rooted in inclusion and awareness. Drawing extensively on her own experiences and her deep understanding of the often masked realities of sexual politics, here is one remarkable author's exploration of what it means to be a woman now—and an of-the-moment rallying cry for why we should all be feminists."
Available Formats: Book, Audiobook
---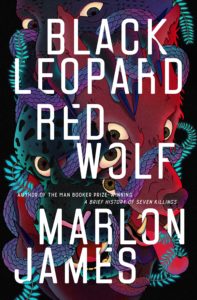 Black Leopard, Red Wolf by Marlon James
"Tracker is known far and wide for his skills as a hunter: 'He has a nose,' people say. Engaged to track down a mysterious boy who disappeared three years earlier, Tracker breaks his own rule of always working alone when he finds himself part of a group that comes together to search for the boy. The band is a hodgepodge, full of unusual characters with secrets of their own, including a shape-shifting man-animal known as Leopard. As Tracker follows the boy's scent–from one ancient city to another; into dense forests and across deep rivers–he and the band are set upon by creatures intent on destroying them. As he struggles to survive, Tracker starts to wonder: Who, really, is this boy? Why has he been missing for so long? Why do so many people want to keep Tracker from finding him? And perhaps the most important questions of all: Who is telling the truth, and who is lying?"– Provided by publisher.
Available Formats: Book, Audiobook
---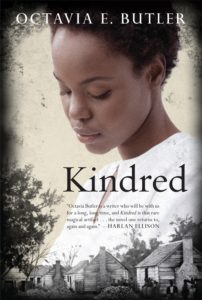 Kindred by Octavia Butler
"Dana, a modern black woman, is celebrating her twenty-sixth birthday with her new husband when she is snatched abruptly from her home in California and transported to the antebellum South. Rufus, the white son of a plantation owner, is drowning, and Dana has been summoned across the years to save him. After this first summons, Dana is drawn back, again and again, to the plantation to protect Rufus and ensure that he will grow to manhood and father the daughter who will become Dana's ancestor. Yet each time Dana's sojourns become longer and more dangerous, until it is uncertain whether or not her life will end, long before it has even begun."
Available Formats: Book, Audiobook, Graphic Novel
---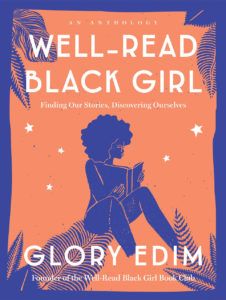 Well-Read Black Girl edited by Glory Edim
"An inspiring collection of essays by black women writers, curated by the founder of the popular book club Well-Read Black Girl, on the importance of recognizing ourselves in literature. Remember that moment when you first encountered a character who seemed to be written just for you? That feeling of belonging remains with readers the rest of their lives–but not everyone regularly sees themselves on the pages of a book. In this timely anthology, Glory Edim brings together original essays by some of our best black women writers to shine a light on how important it is that we all–regardless of gender, race, religion, or ability–have the opportunity to find ourselves in literature. Contributors include Jesmyn Ward (Sing, Unburied, Sing), Lynn Nottage (Sweat), Jacqueline Woodson (Another Brooklyn), Gabourey Sidibe (This Is Just My Face), Morgan Jerkins (This Will Be My Undoing), Tayari Jones (An American Marriage), Rebecca Walker (Black, White and Jewish), and Barbara Smith (Home Girls: A Black Feminist Anthology). Whether it's learning about the complexities of femalehood from Zora Neale Hurston and Toni Morrison, finding a new type of love in The Color Purple, or using mythology to craft an alternative black future, the subjects of each essay remind us why we turn to books in times of both struggle and relaxation. As she has done with her book club-turned-online community Well-Read Black Girl, in this anthology Glory Edim has created a space in which black women's writing and knowledge and life experiences are lifted up, to be shared with all readers who value the power of a story to help us understand the world and ourselves"– Provided by publisher.
Available Formats: Book, eBook
---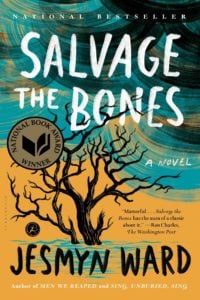 Salvage the Bones by Jesmyn Ward
"Enduring a hardscrabble existence as the children of alcoholic and absent parents, four siblings from a coastal Mississippi town prepare their meager stores for the arrival of Hurricane Katrina while struggling with such challenges as a teen pregnancy and a dying litter of prize pups."
Available Formats: Book
---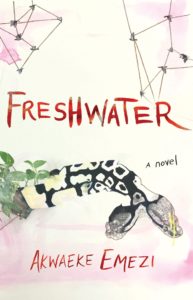 Freshwater by Akwaeke Emezi
"Explores the surreal experience of having a fractured self. It centers around a young Nigerian woman, Ada, who develops separate selves within her as a result of being born "with one foot on the other side." Unsettling, heartwrenching, dark, and powerful, Freshwater is a sharp evocation of a rare way of experiencing the world, one that illuminates how we all construct our identities. Ada begins her life in the south of Nigeria as a troubled baby and a source of deep concern to her family. Her parents, Saul and Saachi, successfully prayed her into existence, but as she grows into a volatile and splintered child, it becomes clear that something went terribly awry. When Ada comes of age and moves to America for college, the group of selves within her grows in power and agency. A traumatic assault leads to a crystallization of her alternate selves: Asụghara and Saint Vincent. As Ada fades into the background of her own mind and these selves, now protective, now hedonistic, move into control, Ada's life spirals in a dark and dangerous direction."– Provided by publisher.
Available Formats: Book
---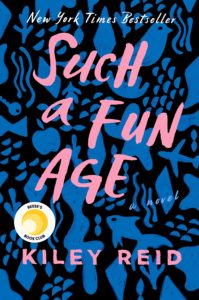 Such a Fun Age by Kiley Reid
"Alix Chamberlain is a woman who gets what she wants and has made a living, with her confidence-driven brand, showing other women how to do the same. So she is shocked when her babysitter, Emira Tucker, is confronted while watching the Chamberlains' toddler one night, walking the aisles of their local high-end supermarket. The store's security guard, seeing a young black woman out late with a white child, accuses Emira of kidnapping two-year-old Briar. A small crowd gathers, a bystander films everything, and Emira is furious and humiliated. Alix resolves to make things right. But Emira herself is aimless, broke, and wary of Alix's desire to help. At twenty-five, she is about to lose her health insurance and has no idea what to do with her life. When the video of Emira unearths someone from Alix's past, both women find themselves on a crash course that will upend everything they think they know about themselves, and each other. With empathy and piercing social commentary, Such a Fun Age explores the stickiness of transactional relationships, what it means to make someone "family," the complicated reality of being a grown up, and the consequences of doing the right thing for the wrong reason."
Available Formats: Book, Audiobook
---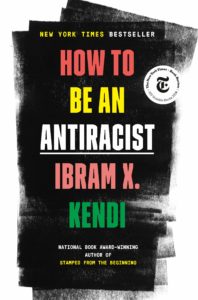 How to Be an Antiracist by Ibram X Kendi
"The only way to undo racism is to consistently identify and describe it — and then dismantle it." Ibram X. Kendi's concept of antiracism reenergizes and reshapes the conversation about racial justice in America — but even more fundamentally, points us toward liberating new ways of thinking about ourselves and each other. In How to Be an Antiracist, Kendi asks us to think about what an antiracist society might look like, and how we can play an active role in building it. In this book, Kendi weaves an electrifying combination of ethics, history, law, and science, bringing it all together with an engaging personal narrative of his own awakening to antiracism. How to Be an Antiracist is an essential work for anyone who wants to go beyond an awareness of racism to the next step: contributing to the formation of a truly just and equitable society."– Provided by publisher.
Available Formats: Book, Audiobook, eBook
---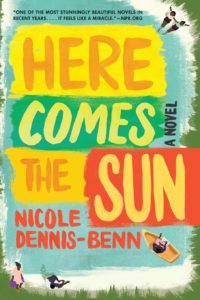 Here Comes the Sun by Nicole Dennis-Benn
"In this radiant, highly anticipated debut, a cast of unforgettable women battle for independence while a maelstrom of change threatens their Jamaican village. Capturing the distinct rhythms of Jamaican life and dialect, [the author] pens a tender hymn to a world hidden among pristine beaches and the wide expanse of turquoise seas. At an opulent resort in Montego Bay, Margot hustles to send her younger sister, Thandi, to school. Taught as a girl to trade her sexuality for survival, Margot is ruthlessly determined to shield Thandi from the same fate. When plans for a new hotel threaten their village, Margot sees not only an opportunity for her own financial independence but also perhaps a chance to admit a shocking secret: her forbidden love for another woman. As they face the impending destruction of their community, each woman– fighting to balance the burdens she shoulders with the freedom she craves– must confront long-hidden scars. From a … new writer, [this book] offers a dramatic glimpse into a vibrant, passionate world most outsiders see simply as paradise."– Provided by publisher
Available Formats: Book
---
The Fifth Season by N. K. Jemisin
"Three terrible things happen in a single day. Essun, masquerading as an ordinary schoolteacher in a quiet small town, comes home to find that her husband has brutally murdered their son and kidnapped their daughter. Mighty Sanze, the empire whose innovations have been civilization's bedrock for a thousand years, collapses as its greatest city is destroyed by a madman's vengeance. And worst of all, across the heartland of the world's sole continent, a great red rift has been torn which spews ash enough to darken the sky for years. Or centuries. But this is the Stillness, a land long familiar with struggle, and where orogenes–those who wield the power of the earth as a weapon–are feared far more than the long cold night. Essun has remembered herself, and she will have her daughter back. She does not care if the world falls apart around her. Essun will break it herself, if she must, to save her daughter."
Available Formats: Book, eBook, eAudiobook
---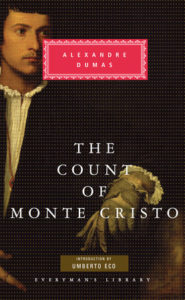 The Count of Monte Cristo by Alexandre Dumas
"Thrown in prison for a crime he has not committed, Edmond Dantes is confined to the grim fortress of If. There he learns of a great hoard of treasure hidden on the Isle of Monte Cristo and he becomes determined not only to escape, but also to unearth the treasure and use it to plot the destruction of the three men responsible for his incarceration. Dumas' epic tale of suffering and retribution, inspired by a real-life case of wrongful imprisonment, was a huge popular success when it was first serialized in the 1840s." — Provided by publisher
Available Formats: Book, Audiobook, eBook, eAudiobook
---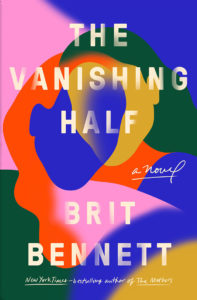 The Vanishing Half by Brit Bennett
"The Vignes twin sisters will always be identical. But after growing up together in a small, southern black community and running away at age sixteen, it's not just the shape of their daily lives that is different as adults, it's everything: their families, their communities, their racial identities. Ten years later, one sister lives with her black daughter in the same southern town she once tried to escape. The other secretly passes for white, and her white husband knows nothing of her past. Still, even separated by so many miles and just as many lies, the fates of the twins remain intertwined. What will happen to the next generation, when their own daughters' storylines intersect? Weaving together multiple strands and generations of this family, from the Deep South to California, from the 1950s to the 1990s, Brit Bennett produces a story that is at once a riveting, emotional family story and a brilliant exploration of the American history of passing."–Provided by publisher.
Available Formats: Book, Audiobook, eBook, eAudiobook
---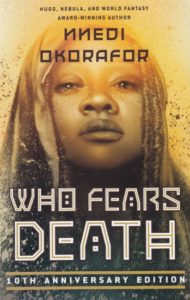 Who Fears Death by Okorafor, Nnedi
"Born into post-apocalyptic Africa to a mother who was raped after the slaughter of her entire tribe, Onyesonwu is tutored by a shaman and discovers that her magical destiny is to end the genocide of her people."
Available Formats: Book, Audiobook, eBook
---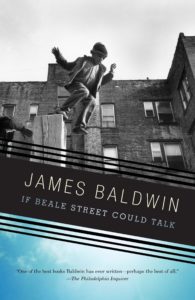 If Beale Street Could Talk by Baldwin, James
"Tish and Fonny have pledged to get married, but Fonny is falsely accused of a terrible crime and imprisoned. Their families set out to clear his name, and as they face an uncerain future, the young lovers experience a kaleidoscope of emotions — affection, despair, and hope."
Available Formats: Book
We love helping people find books, movies, and more.
Tell us about your preferences, and our librarians will create a list of titles selected specifically for you.