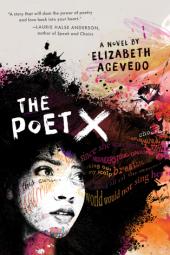 Fifteen-year-old Xiomara tires to be invisible. However with her body being "unhide-able" because it grew curves, and the quick fists she uses to defend herself and her twin brother, Xiomara cannot help but feel front and center to everyone. Between school and her strict religious mother at home, Xiomara knows that self censoring her words are the only way she will get by. All of Xiomara's frustrations and feelings get poured out into the pages of her notebook through poetry. She uses her private words to help her understand feelings for a boy, questions about religion, and her relationship with her family.
Acevedo's novel in verse is skillfully and gorgeously written. Xiomara's daily life as a teen is something readers can truly connect with. Her struggles and questions from all across the board are seemingly real as she deals with sexism, questioning her faith, coping with her difficult family life, and exploring her own identity. The way each page is written puts the reader inside Xiomara's head, and the language and pacing make it simple to understand and easy to read. The mood of the scene is set on every page with every poem, and the characters are able to come alive within the story. Xiomara's story is one of connections and self discovery.
Winner of the National Book Award for Young People, the Michael L. Printz Award, the Pura Belpre Award, and the Earphones Award.
We love helping people find books, movies, and more.
Tell us about your preferences, and our librarians will create a list of titles selected specifically for you.