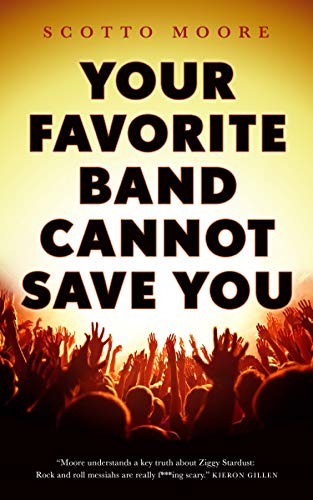 A completely unknown band releases a track on Bandcamp. Our hipster music blogger narrator hears it and is compelled to listen again and again, stopping only to finally take a bathroom break. In the bathroom, he realizes that an entire day has passed since he first began listening to the song. He shares the track with his internet friends and they have disturbing reactions to it as well.
After scouring the net for information on the band he discovers a note in the track metadata: "Track 01 of a 10-track album. Check back daily for the next track!" True to their word, the next day track 02 comes out.
Things rapidly spiral from there.
Your Favorite Band Cannot Save You is a blend of internet music geek culture, dark comedy and Lovecraftian Horror. It's only 128 pages and it moves well, making it a very quick read. It's clever and funny in places, dark and kinda messed up in places (though never overly gory) and doesn't overstay its welcome.
Your Favorite Band Cannot Save You is recommended for readers that enjoy horror comedy, witty writing, and tongue in cheek apocalyptic fiction.
We love helping people find books, movies, and more.
Tell us about your preferences, and our librarians will create a list of titles selected specifically for you.