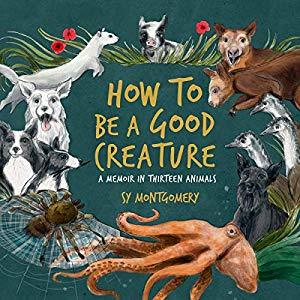 Imagine crouching before a creature's silk-lined burrow where a furry Tarantula (nicknamed Claribel) will emerge, to catch a glimpse of its pink tipped feet – this just part of the day for naturalist, scriptwriter, and reporter, Sy Montgomery!
Journaling her experiences in the wild, whether it is in French Guiana in South America or the Amazon rainforest, Montgomery magically captures the excitement of the moment. In her latest book, How to be a Good Creature she explains how we are all forever changed and our lives  made richer by the significance of the creatures who share our lives on our planet, whether a household pet or one we encounter on our journeys in search of adventure.
As Montgomery recounts: "I am still learning to be a good creature. Though I try earnestly, I often fail. But I'm having a good time trying…I can tell you that teachers are all around to help you: with four legs or two or even eight…All you have to do is recognize them as teachers and be ready to hear their truths."
If you can check out the audiobook version read by the author, it is especially fantastic as it captures the vivid descriptions of her encounters, and recounts how the thirteen diverse species have impacted her life.
Sy Montgomery has 28 books to her credit, with numerous awards. She is also known for her creative and deeply informative books for children, including The Magnificent Migration : On Safari with Africa's Last Great Herds  and The Octopus Scientists: Exploring the mind of a Mollusk.
We love helping people find books, movies, and more.
Tell us about your preferences, and our librarians will create a list of titles selected specifically for you.