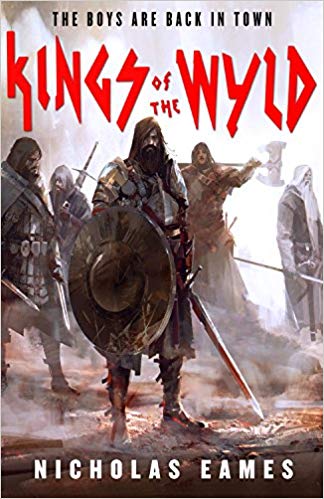 Nicholas Eames smashes into the fantasy genre like a raging bull (or high level barbarian) with his debut novel, Kings of the Wyld. Nineteen years ago, Clay Cooper was a rock star mercenary in the legendary band Saga. There wasn't a monster who met his shield, which he used more often as a weapon than any sword, and lived to tell the tale. Now he lives a quiet life with his wife, dog, and little girl. Thinking of plans to open an inn and settle down for the rest of his life, Clay comes home one night to find Gabe, the leader of Saga, at his doorstep. Bedraggled, a ghost of the glorious hero he once was, Gabe asks Clay to leave the comfort of his family and help save his daughter now trapped in a city under siege. The mission will surely get them killed, but in the off chance that they are successful, glory will be theirs once again. Their first priority is to get the old band back together no matter how drunk, fat or old they may have become. The Heartwyld Horde, an army of any and every bloodthirsty monster you can think of, is waiting.
If you've never read a fantasy novel, I would recommend starting elsewhere. While the novel takes the genre seriously enough, there are a lot of jokes where those unfamiliar with the genre may miss the punchline. Anyone who picks up this book, however, will find a tale full of heart, laughter, blood soaked mayhem, and music references sprinkled throughout. For example mercenary groups are called "bands" which have "front men" and "bookers" to take jobs called "gigs". Even more, readers can visit www.nicholaseames.com to listen to an author curated playlist of classic rock for each chapter of the story. Kings of the Wyld is a white-knuckled ride. Each chapter leaves the reader hungry for more and Nicholas Eames delivers up to the very end. Kings of the Wyld is the first book in The Band trilogy. Bloody Rose is its newly released sequel and you can expect the third book in the coming year. 
We love helping people find books, movies, and more.
Tell us about your preferences, and our librarians will create a list of titles selected specifically for you.