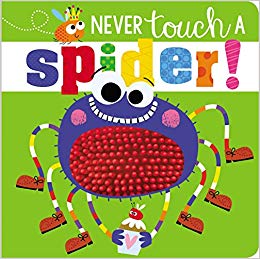 Never Touch a Spider is a silly addition to an ongoing series by author Rosie Greening. The Never Touch series delivers interactive touch and feel books that engage young readers with bright illustrations enhanced by varying tactile experiences. In this title, readers are introduced to a variety of bugs and cautioned to never touch these insects unless fantastical conditions are met. For instance, one should never touch a beetle unless it does ballet. The playful caveats conclude with practical advice, "So you must always treat a bug with care each time you take a look."
While the illustrations' sensory elements appeal to young readers kinetic exploration of the world around them, the lyrical rhymes charm readers as well. Imaginative digital illustrations are paired with two sing-song verses; each element fills an entire page. The text enjoys the same bold and colorful treatment as the illustrations, the font is in a variety of styles and complementary colors. The extraordinary depictions of the insects rely of the different textures employed by the sensory elements to bring out their whimsy; all the while encouraging tactile explorers to work on fine motor skills. A recommended share for caregivers and new readers looking for a funny story.
We love helping people find books, movies, and more.
Tell us about your preferences, and our librarians will create a list of titles selected specifically for you.