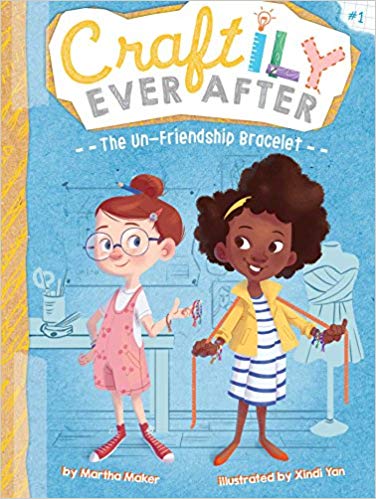 This first in the Craftily Ever After series introduces two best friends, Maddie and Emily, who love to create together. When new girl Bella joins their classroom, Maddie begins a friendship with her, unwittingly leaving Emily feeling isolated and lonely. When Emily's friendship bracelet is lost during her soccer game, she thinks it is a sign that their friendship is also lost. However, she soon becomes friends with Sam, who encourages Emily to talk with Maddie and explain her hurt feelings. Thanks to good communication, the best friends are soon together again, and all four children realize how much they have in common.
The group is diverse, as depicted in the illustrations and naming conventions, yet they share a passion for making and crafting, from sewing to woodworking to coding. Large font, along with plenty of space between lines, makes this book accessible for the newly independent reader. The black and white illustrations on just about every page help the young reader by supporting and adding detail to the story. A sneak peak at the next installment in the series gives the reader encouragement to continue on with Craftily Ever After. Written and illustrated instructions for making friendship bracelets included in the back of the book extend the reading experience.
We love helping people find books, movies, and more.
Tell us about your preferences, and our librarians will create a list of titles selected specifically for you.