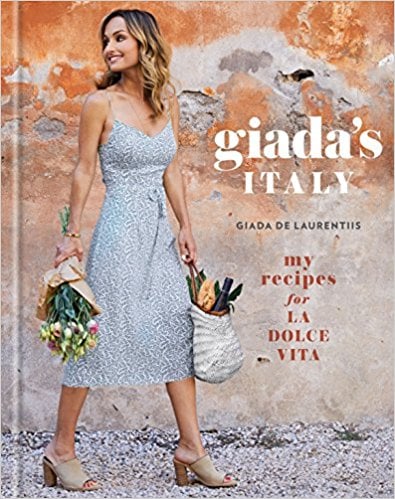 Celebrity chef Giada De Laurentiis is familiar to many from her appearances on The Today Show and Food Network's Giada at Home. Her new cookbook, Giada's Italy: My Recipes for La Dolce Vita is a celebration of her Italian heritage, and she brings the recipes to life with a preface of a childhood memory or a beautiful photograph that is truly a feast for the eyes.
For summer fare, (which means not turning on the oven!) her best recipes include "Grilled Chicken Involtini" or "Pan Seared Salmon with Artichokes and Artichokes and White Wine" which are great for busy weeknight dinners.
Giada explains in the last half of her book that the dishes which are slow cooked and savory are best prepared on the weekend, where both family and friends can relax and enjoy the fare. She explains that "…when people know you've taken the extra minute to make their meal, they feel cared for and happy. Meals like these create memories." [p.157]
My Recipes for La Dolce Vita is a delightful visit to Italy with Giada's culinary talents, and offers wide selection of dishes to tempt any palate!
We love helping people find books, movies, and more.
Tell us about your preferences, and our librarians will create a list of titles selected specifically for you.
Try Personal Book Recs