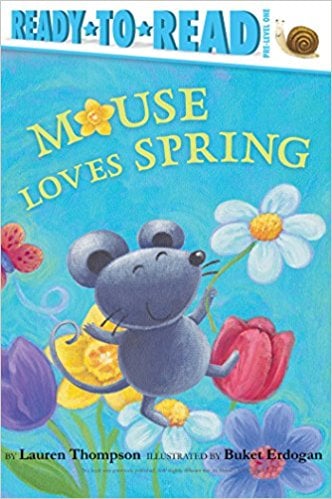 Join author Lauren Thompson and Mouse in celebrating Spring. Little Mouse and her Momma are out enjoying a Spring day when Mouse sees something flittery; it's a beautiful butterfly. Just as she spots this new friend, a whoosh of wind blows and the butterfly flies away. Mouse and Momma continue their walk encountering all sorts of creatures peeking their heads out on this beautiful spring day. As Mouse meets each new friend, she invites the reader to guess with her, "Who could it be?"
Buket Erdogan's bright acrylic paintings and Thompson's nicely crafted guessing game introduce Mouse and readers to the joys that can be found on a Spring day as animals and plants emerge. Each illustration reflects the story's progression, as Mouse and Momma encounter a snail, frog, and squiggly worm. The crisp contemporary font, short sentences, and repetition all work together to encourage beginning readers. Sight words, like the descriptive adjectives and onomatopoeia, are in bold to encourage shared reading and vocabulary building. Readers sharing this books may notice an error on page twenty-five where the word Mouse is bolded. Despite this oversight, readers of all ages will enjoy all the hallmarks of spring, and the elation of Mouse and Momma on their walk.   
We love helping people find books, movies, and more.
Tell us about your preferences, and our librarians will create a list of titles selected specifically for you.