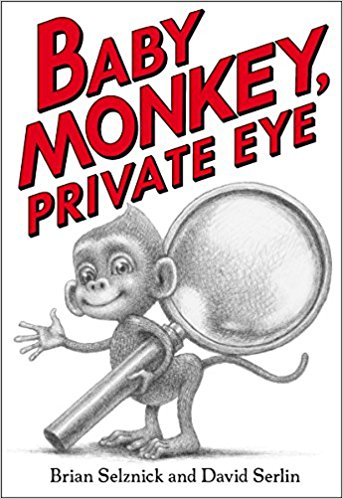 Baby Monkey may have trouble putting on his pants, but Baby Monkey is a talented Private Eye. Selznick and Serlin have created a world in which a baby monkey who still needs naps and snacks and has trouble getting dressed, can solve such crimes as jewel theft and a case of a missing clown nose.
This unique book looks like part chapter book and part graphic novel, but is actually written for beginning readers. The text is minimal and large with much repetition, making it ideal for a new reader. At a hefty 192 pages, it is much longer than the average early reader, but many pages are detailed, full page, black and white illustrations peppered with a few striking bright red accents. Take a close look at those drawings, because that is where the humor is found. In fact, quite a few illustrations depict Baby Monkey struggling to put on his pants! For the observant reader, the illustrations will also give clues to solving the crime. The humor continues when this adorable and laugh-out-loud funny story ends, with a detailed index and a fictitious bibliography, making this book perfect not only for newly independent readers, but also for an adult and child to peruse together.
We love helping people find books, movies, and more.
Tell us about your preferences, and our librarians will create a list of titles selected specifically for you.