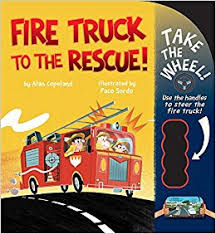 Fire Truck to the Rescue! is an interactive board book written for the active toddler. Open it up, grab hold of the handles built into the sides and you're all set to drive the fire truck. Don't forget your helmet and seat belt! Pay attention to the road. You'll have to steer right and left to avoid the farm animals, change lanes over the bridge, exit the highway, and swerve through the tunnel before arriving at your destination. Can you make it to the city in time to help put out the fire?
Sometimes it is difficult for a toddler to sit still during reading time. At 9 by 10 inches, it is larger than the usual board book but this title would be a great choice for that adventurous 2 to 5-year-old child who wants to take control. Grab the wheel and go for a ride all while reading an engaging story. The colorful artwork by Paco Sordo is playfully animated and brings a humorous touch to the story. If your youngster likes this book they will be happy to know that more books in the Take the Wheel series are coming soon. You'll be able to drive a rocket ship, a motorcycle, and more!
We love helping people find books, movies, and more.
Tell us about your preferences, and our librarians will create a list of titles selected specifically for you.