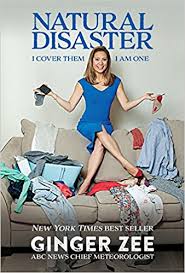 The weather around us can cause horrific disasters – tornadoes, hurricanes, blizzards, and so much more. For television meteorologists like Ginger Zee, all these situations are a challenge: to present the story while including the human side of things that reaches out to all the viewers.
Ginger grew up watching the storms around Lake Michigan from her hometown in Grand Rapids, Michigan where she also found her first television job at WOOD TV after college. But her vision was always on the horizon, trying to think of the next step to a great future on national TV while having adventures along the way. But Ginger was calling herself a "natural disaster" long before she began to travel and cover Katrina, her first real break in broadcasting. So what was wrong?
Whether she was appearing on the show "Dancing with the Stars" or reporting as the chief meteorologist on Good Morning America, Ginger was considered fearless and brilliant by her coworkers. But the shadows in her life that had chased her in the form of depression were always not far away. She was someone who called out for help to her friends and family, and then checked herself into a mental health hospital 10 days before she started her new job at ABC News.
In her autobiography Natural Disasters, Zee gives us glimpses of her life and coping with depression: "My job in some ways has helped me get through my own personal storms just by seeing the disasters as a metaphor for a universal human experience and has given me invaluable perspective along the way." [p.2] She now tells her story so that she may help others who are suffering from depression and who might be considering suicide.
Ginger gives a voice to those who are struggling: "You can be a natural disaster, but you must do it responsibly. The impulsiveness, the messiness, the constant yearning for bigger or better; those can be good qualities. Embrace them, and treat others with respect, but above all, respect yourself… Much like the storms I cover, those natural disasters have purpose, and eventually gratitude can be found within each." [p.281] She further explains that when you start to lose touch with those you love and retreat into yourself, it is a hard but necessary decision to seek outside help to recover, and start to enjoy life's blessings with a grateful heart.
For additional autobiographical reading on overcoming depression you might also try "Furiously Happy: A Funny Book About Horrible Things" by Jenny Lawson.
We love helping people find books, movies, and more.
Tell us about your preferences, and our librarians will create a list of titles selected specifically for you.