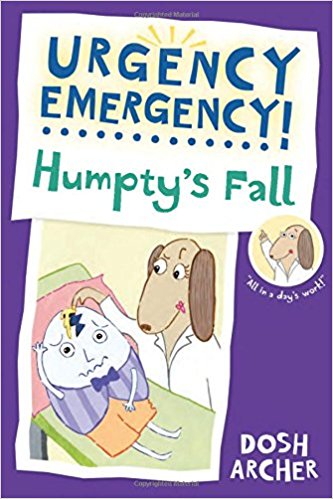 Doctor Glenda and Nurse Percy are on duty at City Hospital when the Pengamedics bring Humpty in on a stretcher. Doctor Glenda works quickly and inventively to stop too much yolk from leaking out of Humpty's head. We not only find out how Humpty Dumpty is treated for his injuries, but we also get an important medical emergency tip: the king's men learn from Doctor Glenda to only move an injured person if they are in a dangerous place. Otherwise, they should be kept still until the ambulance arrives!
Urgency Emergency is a humorous series of British early readers that tell the escapades of characters from classic nursery rhymes. With large type, few sentences per page, and delightful illustrations that support the text, these books are perfect for a newly independent reader who likes funny stories. In Humpty's Fall, we learn all about the cause of Humpty's tragic tumble from the wall and also what happened after all the king's horses and all the king's men failed in putting him together again. Also check out the other books in the Urgency Emergency series that deal with the Itsy Bitsy Spider, an elephant with a blocked trunk, the Big Bad Wolf, and Old MacDonald's sheep.
We love helping people find books, movies, and more.
Tell us about your preferences, and our librarians will create a list of titles selected specifically for you.