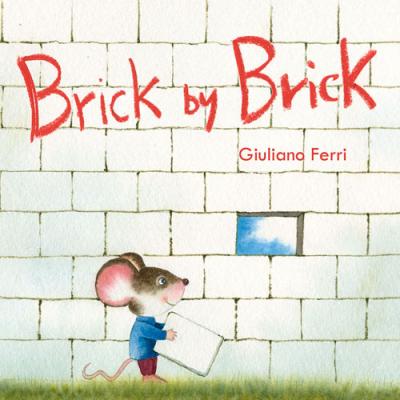 Open to the first page of this wordless book and you'll see a little mouse, gazing up at flowers poking through a crack in a tall brick wall. The mouse inadvertently opens a hole in the wall when he plucks the flower, and the reader begins to view a beautiful green hill through the opening. The mouse carts away the fallen brick. Soon, his friends join him in hauling away the bricks, one by one, until the wall is gone. Now, the friends gaze across the water to another piece of land where they see a new group of animals gazing at them. What do they do? Use the bricks to build a bridge, of course! Soon, the two diverse groups of animals are happily working together until they can greet each other in the middle of the bridge.
This wordless book encourages dialogue between caregivers and children of all ages, and the board book format ensures that the youngest children can safely turn the pages. Anyone who wishes to emphasize the building of bridges instead of walls will cherish this book!
We love helping people find books, movies, and more.
Tell us about your preferences, and our librarians will create a list of titles selected specifically for you.