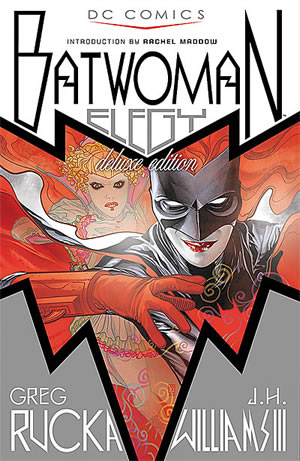 Thirteen covens that Gotham thought were sleeping have woken, their criminal activity spiking. They're after Batwoman, but no one, Kate least of all, knows why. She infiltrates one to meet the new high priestess, a girl calling herself Alice. She poisons Batwoman, causing Kate to hallucinate and remember dreadful things and ghosts from her past. When Alice kidnaps Kate's father, all bets are off for Batwoman. In trying to apprehend her, a terrible accident causes Alice to fall. Her last words are disturbing, to say the least. Kate must walk through her own memory of a terrible family secret – one she thought she had put to rest – to unravel Alice's last riddle.
J.H. William III's art is amazing. A M A Z I N G. It's got really trippy colors and geometric panel formats, super kaleidoscopic. The alternative panel format makes it a difficult read at first, but they all follow a pattern so you'll catch on after a while. Kate is a motivated character, with an interesting dynamic with Batman because she's both included in and outside of the Batfamily at the same time. It's easy to see why it was so critically acclaimed after it came out. You'll come for the story and stay for the art.
We love helping people find books, movies, and more.
Tell us about your preferences, and our librarians will create a list of titles selected specifically for you.