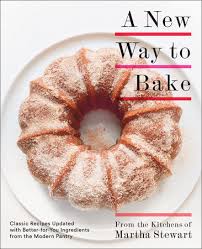 With all the wonderful colors of spring outside that delight the senses, it can make us think of new things—perhaps trying a new recipe!  Martha Stewart, known for her expertise in the home and kitchen, has just introduced the cookbook "A New Way to Bake." Stewart's talented kitchen staff have remastered bakery favorites with fresh new techniques (such as rolling and cutting crusts for a berry pie) and making creative use of ingredients while moving away from processed sugars and white flour.
Stewart's new take on baking suggests that by incorporating diverse grains, flours and sweeteners in your baking, you are eating healthier and can enjoy a new palate of tastes. No need to worry about where to find spelt flour or natural cane sugar, for most of the ingredients are available at local markets. The authors have thoughtfully included a section on "The Basics" which review techniques and recipes for ingredients that you can make in a pinch – such as baking powder or buttermilk. The book also features an explanation of types of flours, grains, fats, dairy, sweeteners, and seeds.
The chapters are well organized for the average baker, starting with breakfast fare and moving to cookies, brownies, and other baked desserts, and ending with breads and rolls. The book is a treat for the eyes as well as the taste buds, with beautiful full page photos. I quickly found my favorites:  Spelt-Nut Crescents, Almond-Coconut Macaroons, and Lemon Cornmeal Cake – all of which can be enjoyed at a spring picnic outdoors.
If you are looking for a cookbook with more techniques and yeasted baked goods, try "Martha Stewart's Baking Handbook", or for grains, check out "Simply Ancient Grains" by Maria Speck.  "Marbled, Swirled and Layered" by Irvin Lin is another favorite with tips to customize a dessert to what you most enjoy, such as a type of crust or filling. It's time for some culinary exploration. There are so many tasty ways to welcome spring!
We love helping people find books, movies, and more.
Tell us about your preferences, and our librarians will create a list of titles selected specifically for you.
Try Personal Book Recs
Share this post: