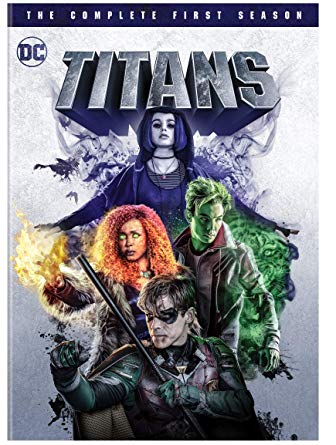 Rachel Roth isn't your normal teen. With burgeoning telekinetic powers, Rachel is wanted by strange and dangerous forces who want to use her abilities for their own plans. Rachel quickly finds herself in trouble following the brutal murder of her mother and being picked up by the police. At the police station, Rachel recognizes Dick Grayson from her nightmares, a detective in the Detroit police department, crime fighter by night as Robin. No longer fighting beside the caped crusader, Dick has a bone to pick with Batman which is slowly revealed to the viewer throughout this first season. Rachel and Dick's meeting sets them on a dangerous journey, fleeing from a group of assassins called The Nuclear Family. Along the way, Dick and Rachel meet Gar/Beast Boy and Kory/Starfire. Viewers who are familiar with the source DC comic books and animated materials may recognize the group's meeting as the formation of the super group, The Teen Titans.
The first season of Titans is a superhero story is the spiritual successor to that violent, gritty blend of comic book film-making which began with Christopher Nolan's The Dark Knight Rises. Titans originally aired weekly on the DC Universe digital subscription service, which allowed the show to explore more adult themes. Co-written by Greg Berlanti (producer of CW's The Flash, Arrow, and Super Girl), this production is not a tame, drawn out teen-drama viewers of the "Berlanti-verse" may be familiar with. Quite the opposite, in fact. These heroes kill and kill violently. One early death involves Starfire using her powers to incinerate a villain by harnessing the sun's energy. The pacing is also spot on. The 12 episode arc makes for a very tight, well-constructed story with little to no filler episodes.
Other DC characters show up during the story, including a DC Universe crossover episode when Gar visits the Doom Patrol. Batman even appears throughout the season, though his face is never shown. His mysterious presence adds a gothic quality to Robin's story and helps to show Dick's disdain towards his former mentor. Viewers who grew up watching the 2003 Teen Titans animated series and reading the comics will adore this live action version , as familiar characters face a deadlier, more adult world. Fans may also enjoy DC Universe's Doom Patrol now available on DVD and the now-streaming Swamp Thing.