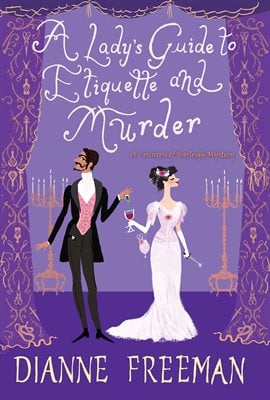 After a year spent "mourning" the sudden death of her philandering husband (who died in bed with his mistress no less) American born countess Francis Wynn is ready to move on with her life. She purchases a house in London and moves there with her 7-year-old daughter Rose, despite the protestations of her in-laws. However, Francis then receives word that her late husband's death may not have been from natural causes and that she is a potential suspect, just as her younger sister Lily arrives for her coming out into London society.
A Lady's Guide to Etiquette and Murder is a hybrid between a cozy mystery and a historical novel and blends the two genres surprisingly well. Set in Victorian England at the end of the 19th century, the book feels authentic to its setting and features a number of well-drawn, likable characters. The mystery is a bit slow to kick in, but the time spent with the characters and the world before that is put to good use and informs much of the plotting and deduction that takes place later. The book keeps a light touch and maintains a mostly relaxed pace throughout, without ever feeling like it's thrashing around in search of a plot or simply killing time.
The audiobook is narrated by Sarah Zimmerman, whose soothing voice and understated delivery are a very good match for the material. The audiobook is a little over eight hours long at normal speed and very well paced.
A Lady's Guide to Etiquette and Murder won an Agatha Award, a prestigious mystery novel award named for Agatha Christie, for best first novel and is the first book in a series. The sequel, A Lady's Guide to Gossip and Murder is already out.
A Lady's Guide to Etiquette and Murder is recommended for fans of historical novels, cozy mysteries and people who enjoy reading about society drama and resourceful characters.
Share this post: