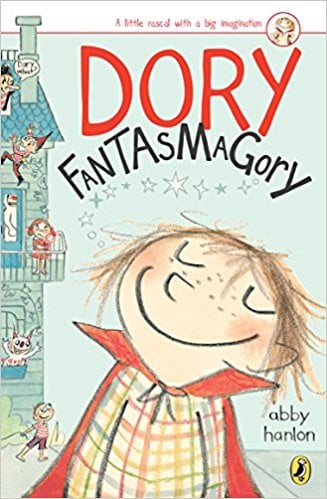 More than anything, Dory's family tells her, "Don't." Don't make up stories, or friends, or adventures. Don't get in the way. Don't cause trouble. But Dory can't help but do all of these things, sometimes all at once! There's a reason her brother and sister call her "Rascal," and most of it has to do with her ever-active imagination. Dory loves make-believe, and, naturally, all her imaginary friends love trouble. This combination leads to lots of well-meaning misadventures and mishaps, all of which make up this first book in a silly new series.
Dory Fantasmagory's first-person narration gives readers permission to immerse themselves in "Rascal"'s character, so whether readers have older siblings, younger siblings, or no siblings at all, they can surely empathize with this imaginative main character's feelings of loneliness and frustration. Illustrations both accompany and continue the plot-in-prose, which makes for an engaging, integrated story. The drawings of Dory's imaginary friends (and enemies) are particularly humorous, and the haphazard style of illustration pairs well with Dory's scattered-if-enthusiastic thought processes.
Dory Fantasmagory is a fun-filled introduction to what promises to be a hilarious chapter book series. Journey further into the wild world of Dory's imagination in the sequel, Dory and the Real True Friend.
We love helping people find books, movies, and more.
Tell us about your preferences, and our librarians will create a list of titles selected specifically for you.
Try Personal Book Recs