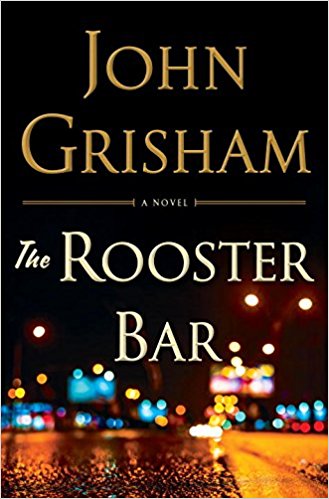 Mark, Todd, and Zola came to law school for the same reasons as many people. The work will be hard and the hours long but when you're through you'll be able to get into one of innumerable law firms around the country and begin to affect real change in the community, establish yourself as a legal expert, or simply enjoy a lucrative career. Just as they are almost graduated from Foggy Bottom Law School, they discover how they've been had, that the Foggy Bottom Law School is owned by a hedge fund that makes its money off of predatory law schools and student loans. Now, disenchanted about the legal world and their standing in it, Mark, Todd, and Zola will risk imprisonment and fines to strike back at Foggy Bottom and their corrupt owners. But will they pull it off?
At this point, readers know the formula. Grisham's legal thrillers are tight, fast-paced affairs and The Rooster Bar is no exception. Mark, Todd, and Zola are all solid characters. They wear their flaws on their sleeves, perhaps a bit too readily for real life, but in a story those flaws help the reader relate to them very quickly. One issue that did arise was the sheer legal knowledge that the three of these students possess. They are presented as the bottom of the barrel, students who had to go to a predatory law school as that was the only one who will accept them. The breadth of their knowledge and the way they execute their plan doesn't connect with unremarkable students. The journey is worth it though and the payoff will have readers chuckling to themselves.
The Rooster Bar is a fun, if somewhat predictable legal thriller. Grisham using his star power to highlight the The Law-School Scam, which made headlines in 2014, is absolutely commendable and something to be celebrated. Recommended for first-time Grisham readers or those looking to return to his works.