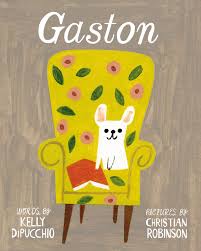 Gaston is a tenacious Bulldog, who works hard to be as proper and precious as his Poodle siblings. One day, Gaston's family goes to the park and meets Mrs. Bulldog's family, which includes the feisty Antoinette. Gaston and Antoinette couldn't be more different, but as the mothers look at their puppies, it appears there has been a terrible mistake. When our courageous pups switch places they learn more about what it means to be a family.
DiPucchio's playful text is often placed around full-page illustrations. The choices of font to highlight the puppies' names and exclamations add whimsy, while reflecting the differences between these two pups. The rough-edged font used for Antoinette reflects her boisterousness and the flowing font for Gaston exemplifies his genteel ways. Robinson's acrylic illustrations fill each page with warm earth tones which draw the reader's eye to our puppies. The illustrations enhance the story by adding additional details. On one page the text describes Antoinette and Gaston getting to know one another; the illustration depicts this and shows how different the two families are with Ms. Bulldog's puppies barking at a squirrel and the Poodle puppies sitting quietly in the grass.  Enjoy this book one-on-one.
We love helping people find books, movies, and more.
Tell us about your preferences, and our librarians will create a list of titles selected specifically for you.
Try Personal Book Recs