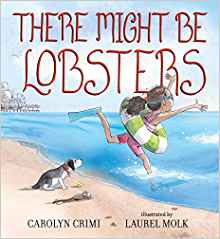 Sometimes it's scary being a small dog in a big world. Meet Eleanor, a young girl, and her timid dog Sukie, as they enjoy a day at the beach. We can't forget Sukie's faithful cloth companion, Chunka Munka, who is joining the duo on this summer day.  Although Eleanor enjoys the beach, Sukie is scared. For Sukie, the ocean is too scary, "those waves were big, and they were whooshy… and she might be swallowed by a whale." With each new beach adventure, Sukie's litany of fears grows, and not even Chunka Munka's company, nor Eleanor's loving patience, can stop them.

This wonderful story, about courage in the face of fear, is enhanced by Molk's bright and colorful illustrations. The details found in the ink and watercolor depictions of the beach, like the lobster holding dog biscuits, will have readers chuckling. The text capturing Sukie's fears is italicized, drawing the reader's eye to its importance while emphasizing how her fears grow as the story progresses.  Many of the illustrations fill two pages, allowing the reader to enjoy a day at the beach along with Eleanor and our skittish pooch. A great one-on-one read for anyone looking to conquer their fears.
We love helping people find books, movies, and more.
Tell us about your preferences, and our librarians will create a list of titles selected specifically for you.
Try Personal Book Recs