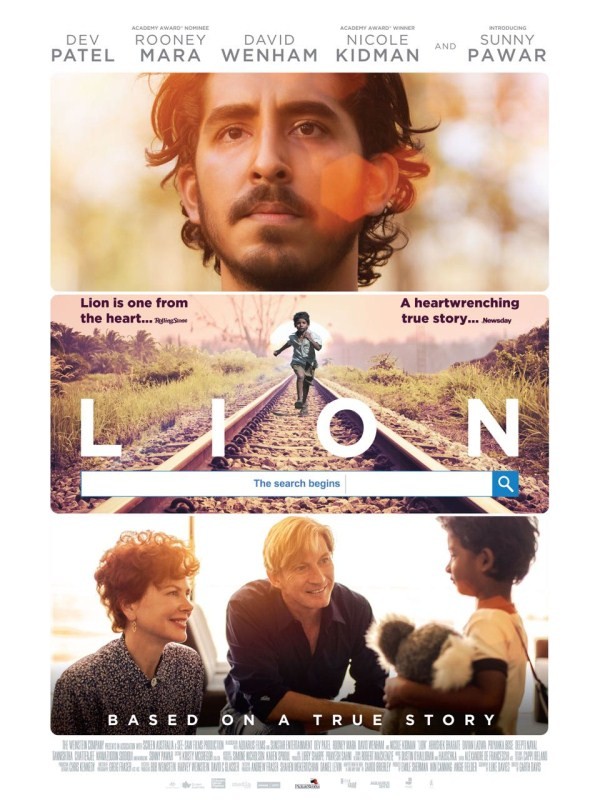 From the first scenes, Lion draws you in with its gorgeous cinematography and musical score. The story is captivating and unique, starting out in India and then moving to Australia as it follows the life of Saroo. When we first meet Saroo, he is an adorable and spirited five year old. He is very poor, but also very happy, because he is so loved. His tight-knit family is made up of his mom, big brother, and little sister, and his all-consuming desire seems to be to help them and be around them all the time.
One fateful night, Saroo's brother, Guddu is off to a job site, and Saroo begs him to go along. Heartbreakingly, Saroo is separated from Guddu, and ends up hundreds of miles away from home. After escaping countless dangers in a foreign state, where he doesn't speak the language, Saroo is eventually put into an orphanage, and is later adopted by an Australian couple.
At the heart of this story is Saroo's deep connection to his birthplace and his first family, and his determination, as a young adult, to find his way back. For anyone who enjoys multicultural films about young people overcoming incredible hardships, this is another great one to add to the list, which may include Rabit-Proof Fence, The Good Lie, and the more recent Queen Of Katwe. Overall, an exceptional film.
We love helping people find books, movies, and more.
Tell us about your preferences, and our librarians will create a list of titles selected specifically for you.
Try Personal Book Recs