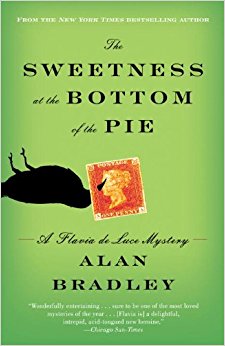 A body is discovered in the garden at the Buckshaw estate by the very grown-up, eleven-year-old Flavia de Luce, and she is not the least bit horrified. She's actually quite mesmerized by it, and counts it as the single most fascinating thing that has ever happened to her. Our heroine, you see, is not faint hearted, and she thrives on adventure, mysteries . . . and chemistry — as any sleuth should.
In The Sweetness at the Bottom of the Pie, the first installment in this winning series, we meet Flavia de Luce, who lives at Buckshaw with her rather aristocratic — and mean — older sisters Ophelia and Daphne, and a self-absorbed father, Colonel de Luce. Luckily, this situation doesn't breed loneliness for Flavia, but rather a sense of lively independence. And Alan Bradley, gifted writer that he is, fills the page with Flavia's wicked humor and a well-drawn 1950s English countryside seen through the eyes of our brilliant friend.
Fans of literary mysteries are sure to enjoy The Sweetness at the Bottom of the Pie, a delicious whodunit, a coming of age story, and the promising beginning to what has proved to be a blue ribbon of a mystery series.
Look out for the ninth installment, The Grave's a Fine and Private Place, coming out in January.