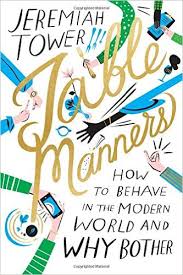 Have you caught yourself texting or posting a photo while attending a dinner party when the meal is underway? Or informing your host (or hostess) of meal restrictions or allergies upon your arrival? How about handing a bottle of wine to the host before you are even through the door? Do you know which foods to eat with your hands, or more correct to eat with a knife and fork?
So often we do not have the social cues to inform us of more correct behavior, unless we are avid readers of Emily Post or Miss Manners. Now comes help from the witty Jeremiah Tower, who has infused humor and illustrations (reminiscent of The New Yorker Magazine) in his recent book Table Manners – How to Behave in the Modern World and Why Bother. So, if you like to "dunk" your bread in the delicious sauce, that's ok, says Tower "I am all for it…just do it with confidence."
Tower, a chef extraordinaire known for his innovative California cuisine and restaurant successes, is fully aware of a downturn of manners in today's dining.  With social media influencing so much of what we share, there seems to be no restrictions or thoughts of proper or just plain good manners when you happen to be dining with others, or even hosting your own party. His lively chapters can set you at ease, covering everything from what to wear, the best way to eat certain foods, and conversation. As the author most aptly states:
"The number one rule for enjoyable and profitable conversation is to listen more than you talk…The most effective way to win someone to your side is to leave that person with the impression that you found him or her fascinating, knowledgeable and great company." [p.49]
He debunks the "host" gift of a bottle of wine, as etiquette dictates that the host serve the wine, which might not be in step with this particular gathering. Bringing flowers? Tower cautions not showing up at the door with a floral display – they should be sent either before or after the party.
Tower's slim book is very helpful in getting things right, but if you desire more in depth cues on social behavior, you might also enjoy Modern Manners: Tools to Take You to the Top by Dorothea Johnson, or the great standby Emily Post's Etiquette, which is a 19th edition! Now, if I can remember where I am supposed to put the olive pits from the appetizer I just ate…