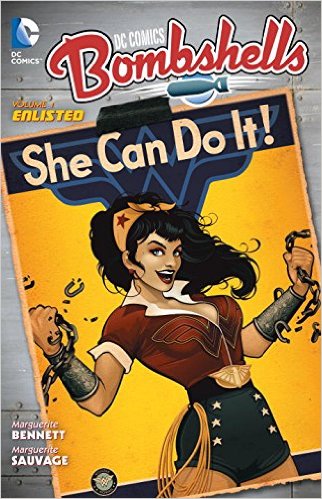 DC Bombshells started off as a figurine line, but grew so popular it's now a comic!
Set in an alternate universe World War II, this comic centers on DC's superheroines who each start to join the war effort in their own way. Kate Kane wishes she could be fighting instead of playing baseball to keep Gotham's morale up. She gets her wish and is recruited by Amanda Waller for a special ops unit called the Bombshells. In Berlin, she spies on the German government, playing a dangerous cat and mouse game with Contessa Selina DiGatti and Lex Luthor. When their powers are discovered, sisters Kara Starikov and Kortini Duginova are persuaded by the Soviet government to become the poster girls of the Russian war effort. Steve Trevor crash lands on Paradise Island, raving about a madman trying to take over the world – and only Diana believes him. With the help of her friend Mera, she takes up arms and whisks Steve Trevor away from her home in order to save man's world.
There are so many more threads to this story, and more of your favorite girls show up as you go. It's incredibly multi-layered and it's so exciting to see how each story starts fitting together. More and more artists start working on it as you progress; Margaret Sauvage's lithe forms and pastel colors are my favorite. She captures the femininity, yet extreme strength, in these characters in this era best.