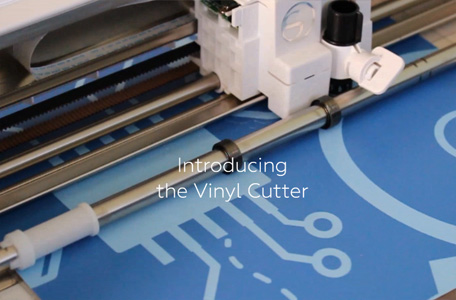 What is the vinyl cutter?
The vinyl cutter (aka Silhouette Cameo) is a machine which cuts designs in thin material, including cardstock, fabric, vinyl, labels, and more. You can make your own designs or download premade templates, then load them into Silhouette Studio, a free program that sends instructions from the computer to the vinyl cutter to turn a rectangular piece of material into any shape you can imagine.



What can I make?
Wall decals, stickers, cards, and scrapbooking projects are just the beginning. You can also make stencils for screen printing, etching, or painting. Want to stand out from the crowd? Create one-of-a-kind business cards or party invitations in whimsical shapes.
How can I use it?
Programs: Programs involving the vinyl cutter are open to everyone who meets the age requirements of the event. No prior training is necessary!
Check-outs: Westmont Public Library cardholders can borrow the vinyl cutter to use on their own in the library. First, come to an orientation or book a one-on-one appointment for training. Once you learn the ins and outs and sign our user agreement, you'll be able to fly solo.
Share this post: