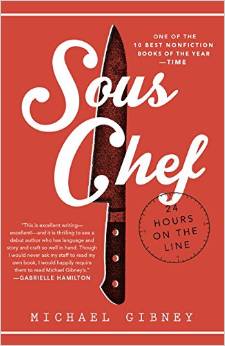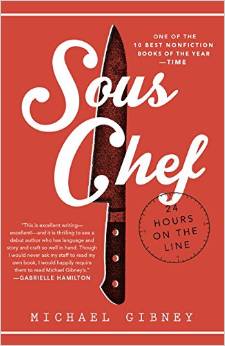 Have you ever wondered what it is like to be working in the kitchen of a nice restaurant when the perfect meal is delivered to your table? Do you know how much work really goes into the dish that is in front of you, made to be a pure delight to the senses?
These thoughts were certainly mine as our family dined in downtown Chicago a week ago for my son's birthday celebration. Everything we ordered was perfectly timed and perfectly cooked when it arrived to our table, whether it was the appetizer, main course, or dessert. It was a truly delicious, enjoyable meal with a great view of one of Chicago's tree lined avenues.
Back to my job in the library, I was still thinking about the great service I had received at that Chicago Loop establishment. Walking by the reference desk, I saw this book on display: Sous Chef 24 Hours on the Line.  I was immediately interested, and checked it out to read. In looking further, I found that the book was named one of the ten best non-fiction books of the year by Time magazine.
Chef author Michael Gibney gives a true glimpse of working in a busy Manhattan restaurant as a sous chef, (French for "under chef.") He describes a fast paced, rollicking peek into the unique culinary world. He describes a chef's true purpose, which is explained with these words:
"You always want things to be soigné [perfect.] Every table is PPX [personne particulièrement extraordinaire: an important guest], every guest is a VIP. They all deserve to be looked after, cared for. We are here to cook for people. Alimentation: the provision of nourishment—this is what we do. And we continue doing it long into the night, not because we favor adversity, but because we know that in doing so we get the chance to create with our hands something that sustains people and brings them joy." [p.111]
A good philosophy to be sure, but there is so much more in the hectic pace, the blending of personalities and singleness of purpose that becomes apparent in reading Sous Chef. The chapters of the book embody the pacing of the day from "morning" to "close" and back again. It is significant to note that this happens at most restaurants at least five days a week!
Author Gibley has kindly given the novice, would-be-chef reader supplemental details of kitchen terminology and a kitchen floor plan to allow for depth of understanding of what is it is like to create exceptional meals for 300 guests in an evening, in a choreographed "dance" of food production.
For those of us who orchestrate our own culinary creations, we can have our quiet successes in the same thought as the sous chef describes: it is all about creating a dish that is enjoyable to us and our family or friends. Gibley's book has made me realize that there is a respect for the process for creating sumptuous meals. I hope that if you have the opportunity to read Sous Chef you will understand the chef's perspective and his intent to provide the guest with a meal that is the best he can create.
Share this post: