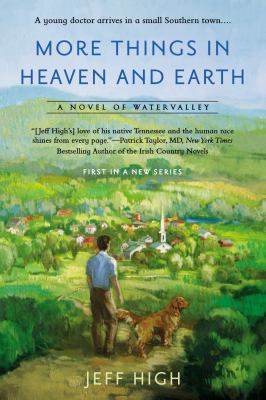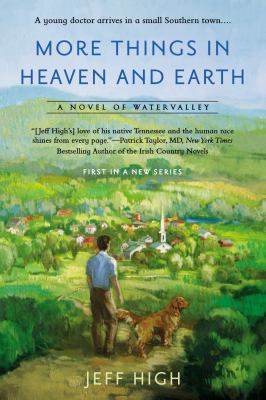 Are you missing the town of Mitford?  Do you long for a trip to Lake Wobegon?  I have another small, quaint town for you to visit this summer. Watervalley, Tennessee is where new doctor Luke Bradford has landed, although setting up a small town practice has never been his goal. The book opens with the young doctor handling his first emergency in an office with aging, limited supplies, nervous staff members, and a strong need to prove himself. The author had me hooked from the beginning with his style that is both humorous and touching.
From his laugh-out-loud account of his arrival in town to a sad episode with a hurting neighbor to his bungled attempts at romancing a local teacher, Luke has ups and downs that leave him questioning his place in Watervalley. Realizing that the loneliness he feels is self-imposed, Luke needs to decide if he should leave his post or embrace the town and the people in it.
Perfect for summer, More Things in Heaven and Earth by Jeff High is a heartwarming, funny, easy read that will leave you longing for more. Never fear – book two, Each Shining Hour is already available with book three coming later this year.
We love helping people find books, movies, and more.
Tell us about your preferences, and our librarians will create a list of titles selected specifically for you.
Try Personal Book Recs
Share this post: