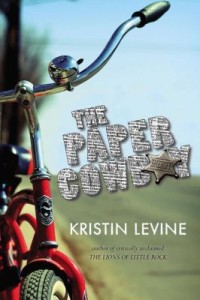 I am very much a native of the western suburbs of Chicago. My only homes have been in Downers Grove and Westmont, and I've always felt that suburbia was a great place to grow up.  We played outside until sunset without worry. Neighborhood games of Red Light Green Light, Running Bases, and Ghost in the Graveyard were nightly occurrences. But listening to stories that my oldest brother tells, I realize I had a different experience growing up here in the 1970's than he did in the 1950's.
He's told me about the summer that no bird song was heard, following widespread DDT spraying. I've heard stories of Catholic school nuns, duck and cover drills, burning leaves in the backyard, and the wide open fields surrounding our childhood home in Downers Grove.
In Kristen Levine's Paper Cowboy, the setting is Downers Grove in 1953. Twelve-year-old Tommy takes over his sister's paper route after she is injured in a serious accident. Tommy's life at home is not easy because his family is not only dealing with this tragedy, but also with abuse by his mentally ill mother. He struggles with relationships at school, bullies a fellow student, and becomes involved in a mystery. He is shocked to find a communist newspaper during a paper drive, and is determined find out which of his neighbors is the communist so he can turn them in to the authorities. When Tommy plants the newspaper in a local shop, the owner is shunned by the community and his business fails.  As Tommy learns more about his neighbors through his paper route, he comes to regret his actions and tries to set things straight.
I thoroughly enjoyed reading Paper Cowboy. When Levine writes about Fairview and Ogden or St. Joseph's Catholic School, I can picture the setting clearly. When Tommy goes to a show at the Tivoli, I know just where he is! The small town and Catholic school experiences that she describes sound like some of the stories I've heard my brother tell. I've always enjoyed reading historical fiction, and this book was interesting because it describes McCarthyism, a time in history that is not covered in many children's books.
I would recommend this book for children in fifth grade and up, due to the difficult subject of abuse and other tough family situations. Although it is considered a children's book, any adult who grew up in this area, or was a child during the 1950's, will find Paper Cowboy interesting.
Share this post: