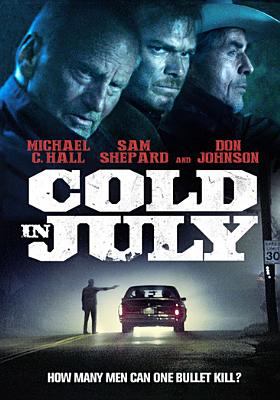 Cold in July is that it features Michael C. Hall – Dexter himself – sporting a perfect mullet ripped straight out of the pages of Discriminating Hillbilly Monthly.  Business may be up front but you better believe there's a party in the back.  The fact that it's also a very entertaining thriller is just gravy, that condiment favored by roughnecks and hill folk.
Cold in July is based on the 1990 novel of the same name written by Joe R. Lansdale.  It stars Hall as Richard Dane, the unassuming proprietor of a picture-framing business in 1980's East Texas.  And since this is Texas, Dane owns a gun with which he shoots a burglar in the film's opening, or as they call it in the Lone Star State, "an ordinary night at home." The sheriff informs Dane that the deceased was one Freddy Russell, local ne'er-do-well and recidivist…oh, and his daddy might could come looking for you, got to go!  Papa Russell does in fact show up in the form of the incomparable Sam Shepard – no, not the cowboy one, that's Sam Elliott; the playwright one married to Jessica Lange – who lays down all sorts of thinly-veiled threats and menace.  However, Dane soon learns that the deceased may not be who he was told he was, and an unlikely alliance forms.  And, well, since I've only mentioned two characters so far…yeah, it's Dane and Russell Sr.  Spoiler alert.
Sounds pretty good, right?  Wait…you want more?
Well you got it, in the form of Don Johnson decked out in a ten-gallon hat and driving a cherry red classic convertible (my dad would know which one), giving Yosemite Sam a run for his rootin'-tootin' money.  The three join forces to get to the bottom of the mystery, right some wrongs, and generally swagger like you only wish you could.
Check out Cold in July while it's cold in February.  Yee-haw!
Share this post: