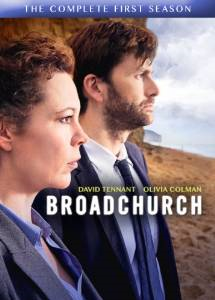 Broadchurch (a huge ratings juggernaut in the UK) stars David Tennant of Dr. Who fame as Alec Hardy and Olivia Colman as Ellie Miller, the detectives in charge of an investigation into the death of an 11-year-old local boy.
The lead detectives are flawed, but dogged – D.I. Hardy refuses to let a heart condition that results in multiple near death experiences and rumors of a prior failed murder investigation stop him from providing justice to the family of the boy. Miller initially dislikes and distrusts the newcomer Hardy, who she believes has taken the top spot on the case from her. Despite this friction, the two develop an unlikely and fragile friendship as they search for the truth amid the lies.
The scenery on the English channel coast of Dorset is spectacular and the emotions let loose by this shocking crime are almost overwhelming. Suspects reveal terrible, wrenching back stories, hurtful lies are exposed and covers are blown, and no one is immune from vicious small-town gossip and journalistic excess. The second season is set to premier in the U.S. in March with the same detectives at the helm. Despite the tough subject matter, I was completely engrossed in Broadchurch and I'm looking forward to Season 2.
Share this post: